Just an hour drive away from the Slovenian capital lies the sunniest region in Slovenia – the Vipava valley. Carved by the water and Bora wind is home for some of the most excellent wines, magnificent natural scenery and warm locals. The Vipava valley is a perfect place for cycling year-round. Read on to discover how to best explore this region by E-bike!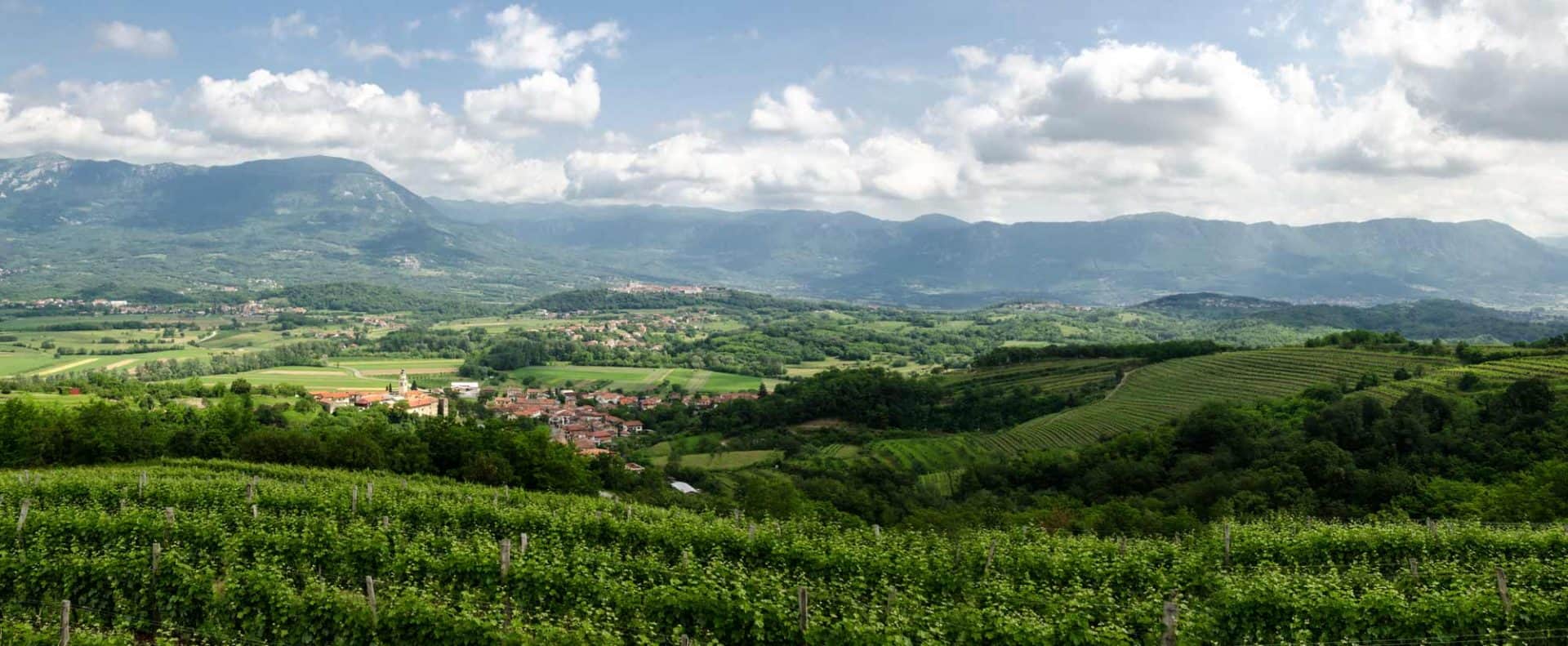 What makes the Vipava valley different?
When you reach the Vipava valley, the first thing you will notice are many vines attentively arranged on hills. And countless small, old villages are sitting beneath mountains on the opposite side. This ridge is the forefront of the Julian Alps. In the middle of the summer heat, the forests of Trnovo plateau are a perfect escape for cyclists and hikers!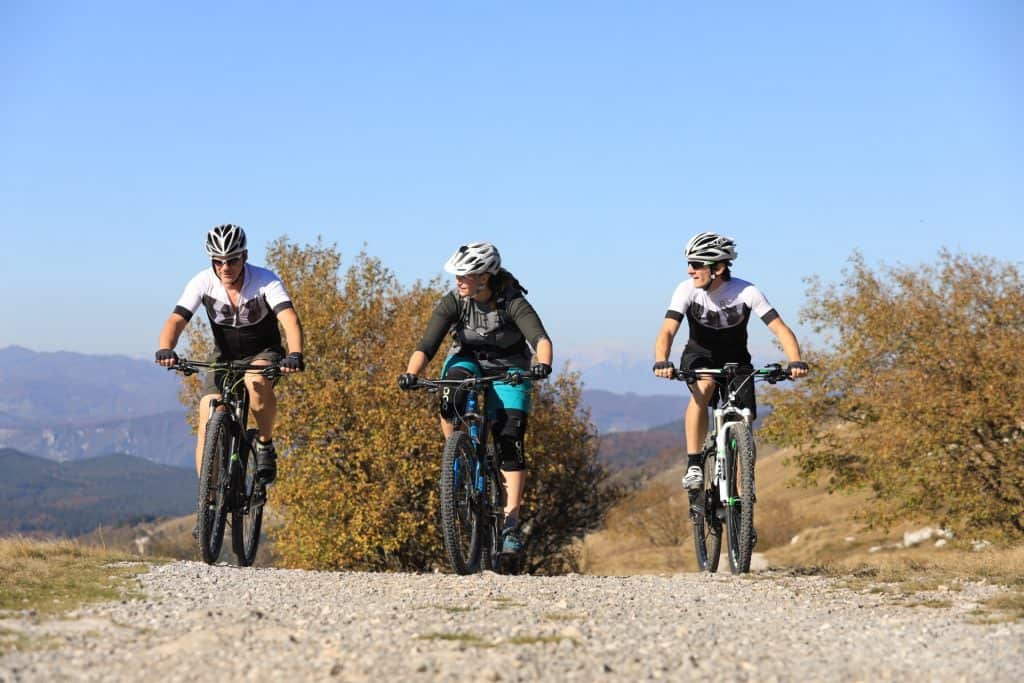 On the Southside are picture-perfect sunlit hills, which presets ideal terrain for wine growing – one of the most important things here. And a bicycle is the best choice to get lost among vineyards on quiet roads. In the middle, we have a plain where Vipava river carved its way. Perfect for easy trips on gravel roads through some flat-lying vineyards and fruit plantations. Yes, besides wine here you can also enjoy in juicy peaches, apricots, cherries and many other delicious fruits throughout the year.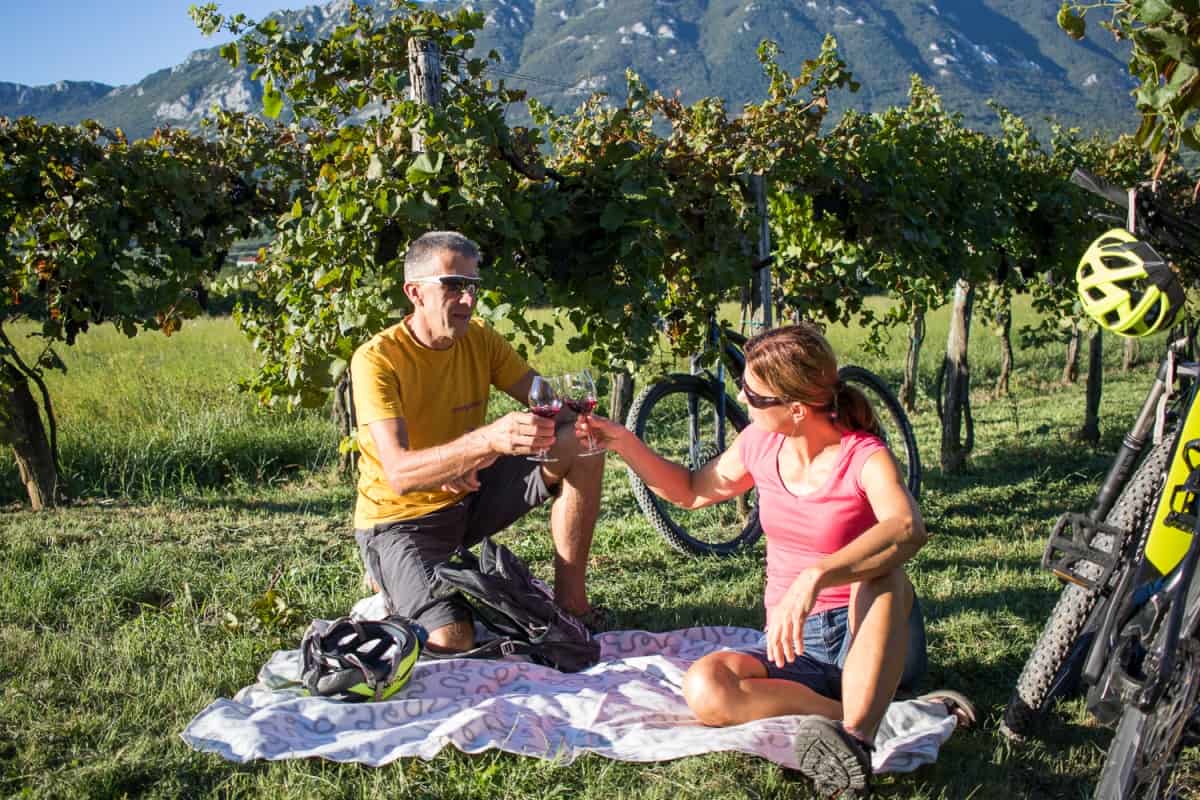 The hills are not closing the Vipava valley on the West. That's why warm air from the Adriatic sea contributes to such a unique climate. The valley is as warm as seaside, winters here are mild, and everything starts bursting sooner. Rounding up the Vipava valley is offering many appealing aspects for cyclists. Weather more demanding routes on the Northside, to Nanos mountain for example or more relaxed ones on the opposite side. We can easily say that the Vipava valley is a perfect playground for cyclists of all kinds.
Discover the Vipava valley with E-bike!
E-bikes have entirely changed the cycling world. With e-bikes, anyone can now enjoy great outdoors, independent of their fitness! The whole family or a couple can go together for a ride and relish their time together. No hill is too high, and longer distances are now part of the game. All those positive aspects convinced us to offer you E-bike tours & rentals. Discover the hidden treasures and secret paths that Vipava valley has to offer with RockVelo e-bike rentals and tours!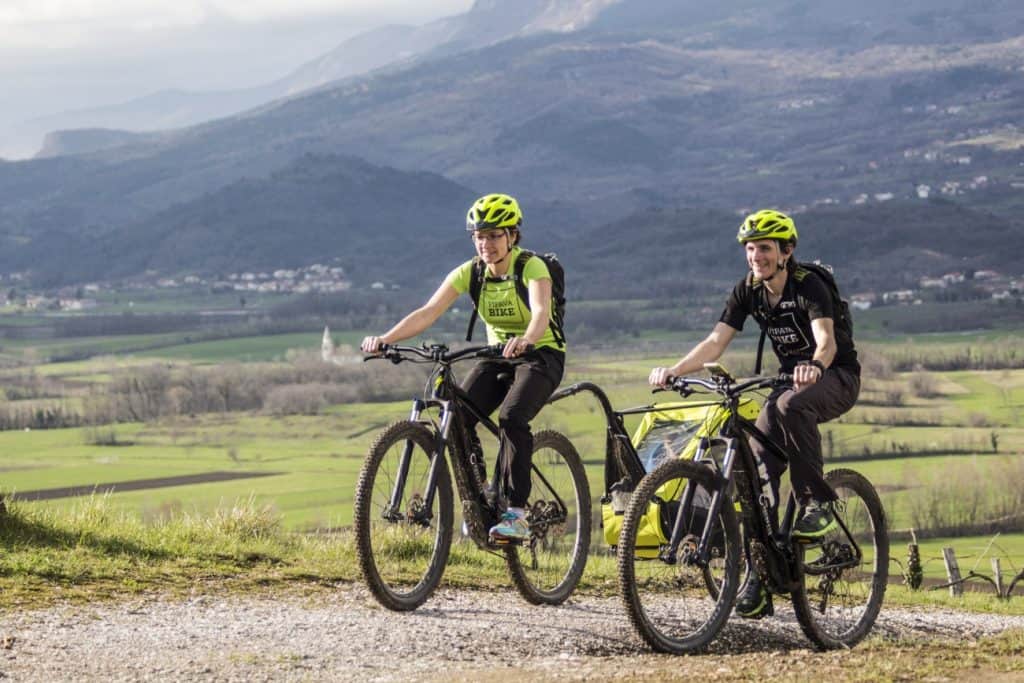 How does e-bike differ from the ordinary bike? It has a motor that assists you while you pedal. It's not a moped where you twist the throttle, and off you go. So, you're still exercising. But the effort is lower. And you know what – you don't need any additional skills to ride it if you know how to ride an ordinary bicycle. And if you weren't on a bike for some time, don't worry at all. It's like swimming once learnt, learned for a lifetime.
Top things to see and experience in the Vipava valley:
Vipavski Križ – the hill-top village
This small medieval village is sitting on the top of the hill in the middle of the valley. Hard to misseen it from down below. But the real treasure is hidden behind the old medieval walls. Here a lot of history is gathered- castle, monastery,… Due to the strategic position, it quickly got marketing rights which even further pushed its importance and development. This compact village is one of the most beautiful cultural monuments in Slovenia. Wondering why? Since then, it remained in the original town plan. Narrow, quaint streets are so charming. And the view is remarkable – all the valley is below you all around. If it was a vibrant place in the old days, now it is a perfect place to relax. You can also try local wine varieties together with locally produced snacks in Darovi Vipavske. And if you will have a hard time leaving you can also spend a night there.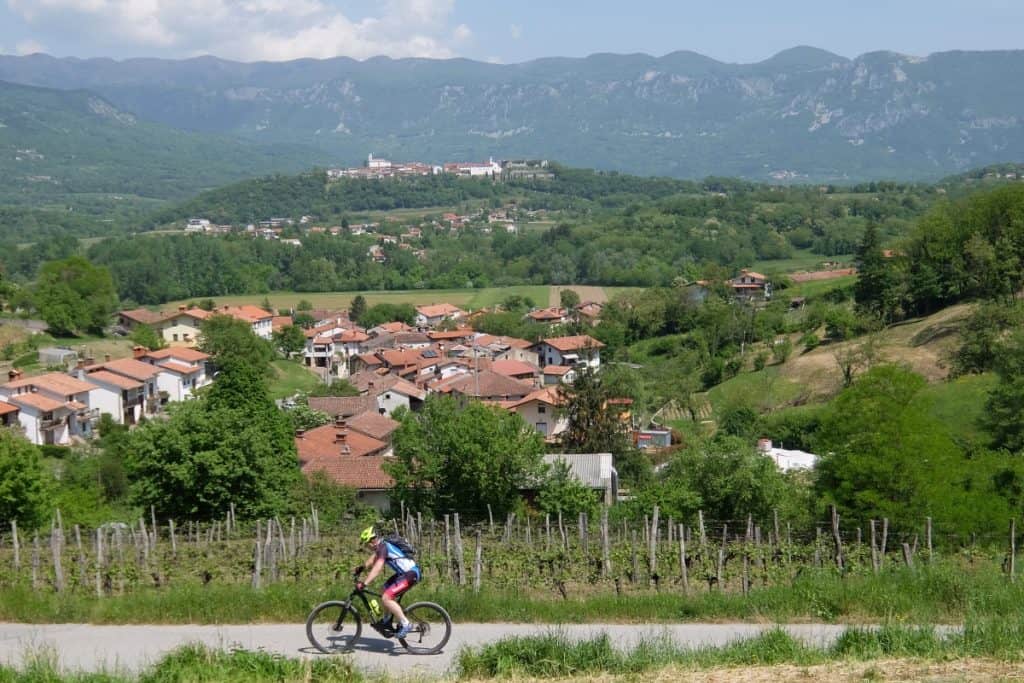 Vipava the wine-growing capital
Name Vipava has a lot of different meanings here. Everything starts with the river that runs thru the valley and later flows into Soča. But also the town where the river originates holds the same name. Beneath the stone walls of the Nanos plateau water is coming out in numerous streams. Thru the years people built 25 bridges over all those waters. Therefore, visitors quickly say it's like Slovenian Venice. You can even have a coffee near one of the springs and admire crystal clear waters, of which Slovenians are so proud.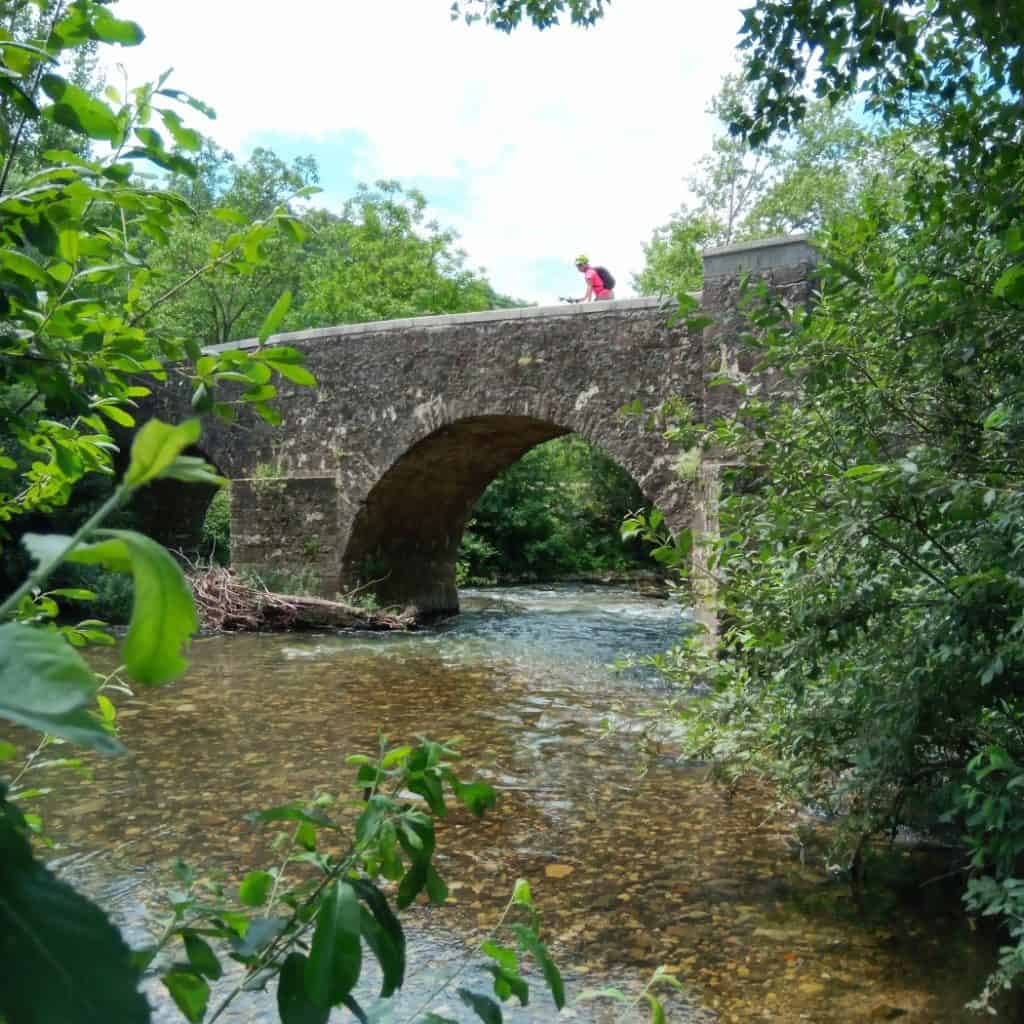 The Vipava valley, with all its natural resources and favourable climate, was an attractive place to live already in the old days. Many different nations choose this town for their home, family Lanthieri being the most famous among them. They left a charming baroque mansion in today's city centre. Built in the classical Venice architectural style. Worth a visit. The same earls also built mansion Zemono, not far away from Vipava. Now there's one of the best Slovenia restaurants – "Gostilna pri Lojzetu". But if you want a great local meal, friendly ambient and excellent value visit "Gostilna Krhne" in the town centre. Did you know Vipava is also a university town? Being closely tied with a vine growing for centuries, it is not surprising that there operates internationally renown University for winemaking and viticulture. Winemaking is literally a science in the Vipava valley!  
Vintage
Whole year winegrowers are carefully looking after their vineyards. And we think that there is no better option to see this admiration during the grape collection. Locals will be more than happy to help them with work, give you secateurs, and soon you will be part of the family. When done, you will be invited to join them in a cellar.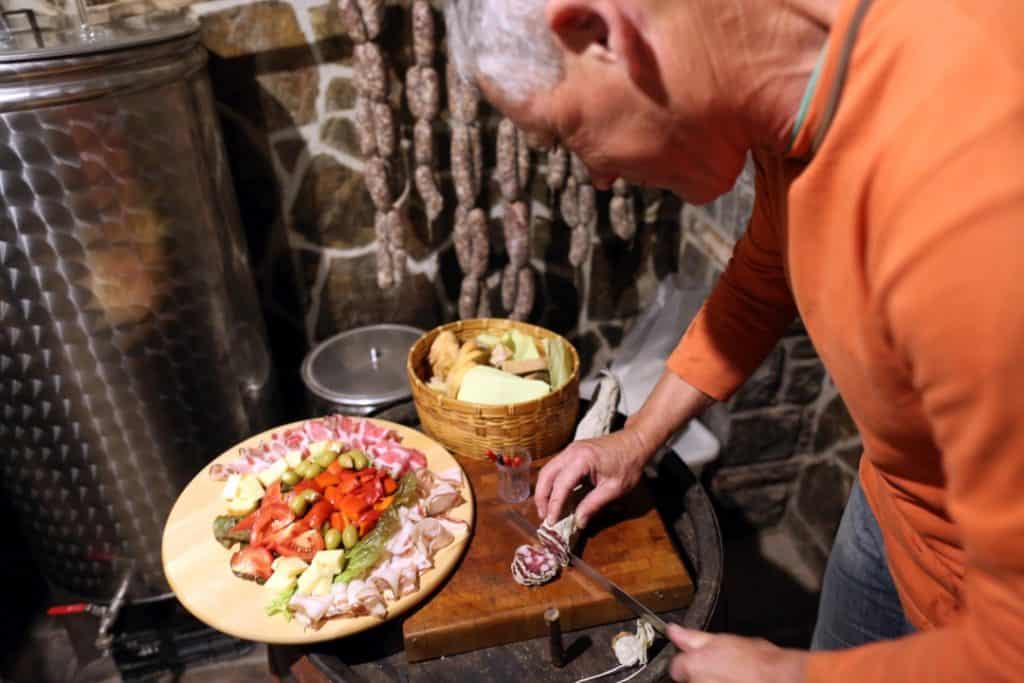 The Vipava valley is known for its many stone vaulted vineyard cottages. Buried under the soil, those are a perfect place for making wine. Many of them are family-owned, doing wine just for themself and friends. Others are bigger and directed toward commercial production. But each of them shares the same passion for their land. This love is passing from generation to generation; therefore, they manage to preserve some unique varieties that grow only here. Among them stands out Zelen and Pinela is right behind. If you aren't here for the vintage season, you should go to wine tasting. Every bottle has it's own story, and locals would be pleased to share it with you. Oh, have you already tried an orange wine? The Vipava valley is a perfect place for discovering new wine flavours.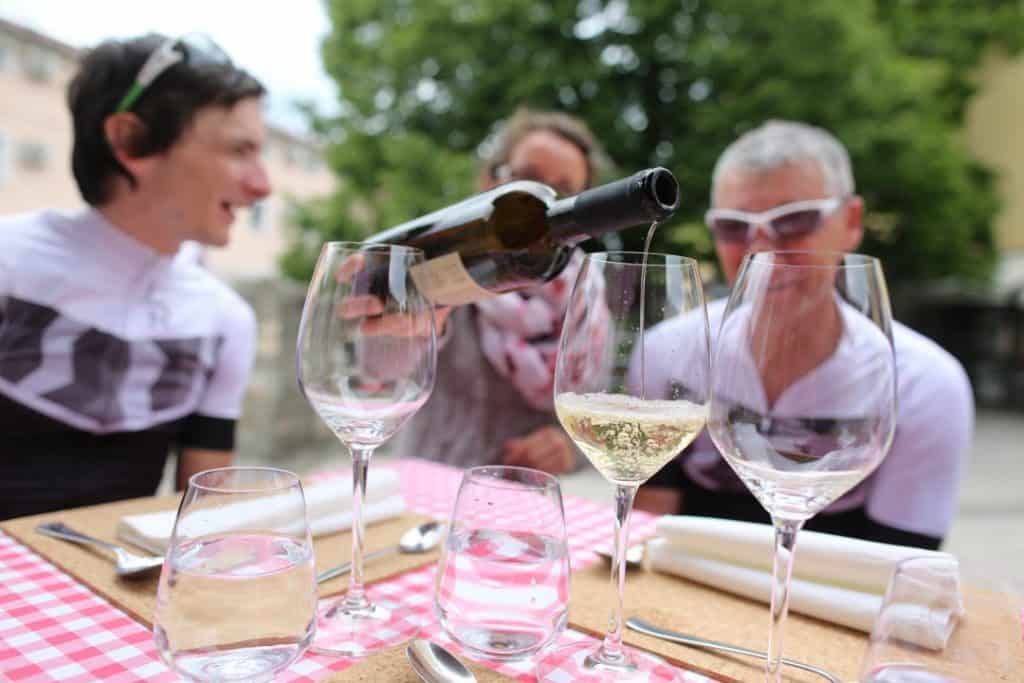 Rock window & the best sunset dinner!
Are you looking for a spectacular view over the Vipava valley? Then you have to cycle up to this huge natural rock window near the village of Otlica! Twelve metres high hole in a stone wall is offering a look down on the valley you won't easily forget. But it comes with a price tag, as climbing up to the rock window with a bike is by no means an easy feat. If you are not a Tour de France type of a cyclist, an e-bike is an excellent idea to help you get there.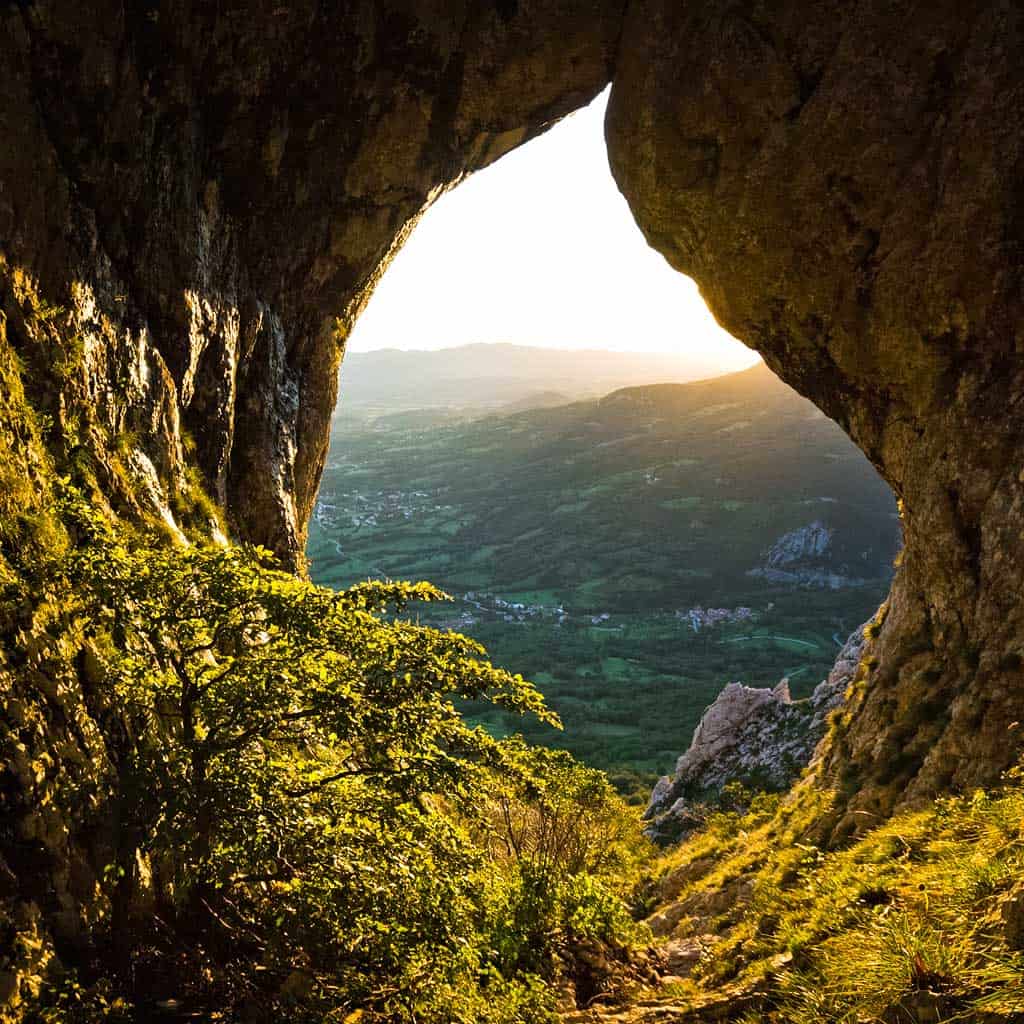 Before descending back down to the valley, we suggest you take a detour to Sinji Vrh. Impressive hill-top restaurant serving delicious home-made dishes where most ingredients originate from a range of a few kilometres. And this is just a part. You can be served on the terrace while watching the sun setting on the valley. It's a perfect place to end a day above the Vipava valley.
Why you should put the Vipava valley on your list
What can you inspect when coming cycling to Vipava valley? Diverse terrain is making the valley genuinely unique. If we already suggest you cycling among scenic vineyards hills, which resembles those of Tuscany, there's more. Here you can also find road ascents hard enough for the professional racers. For example a beautiful road up to Predmeja which carves its way through hand-built tunnels on the slopes of mountain Čaven. This nine kilometres long ascent can undoubtedly compare to Vršič pass. And with the help of an e-bike, it is totally doable.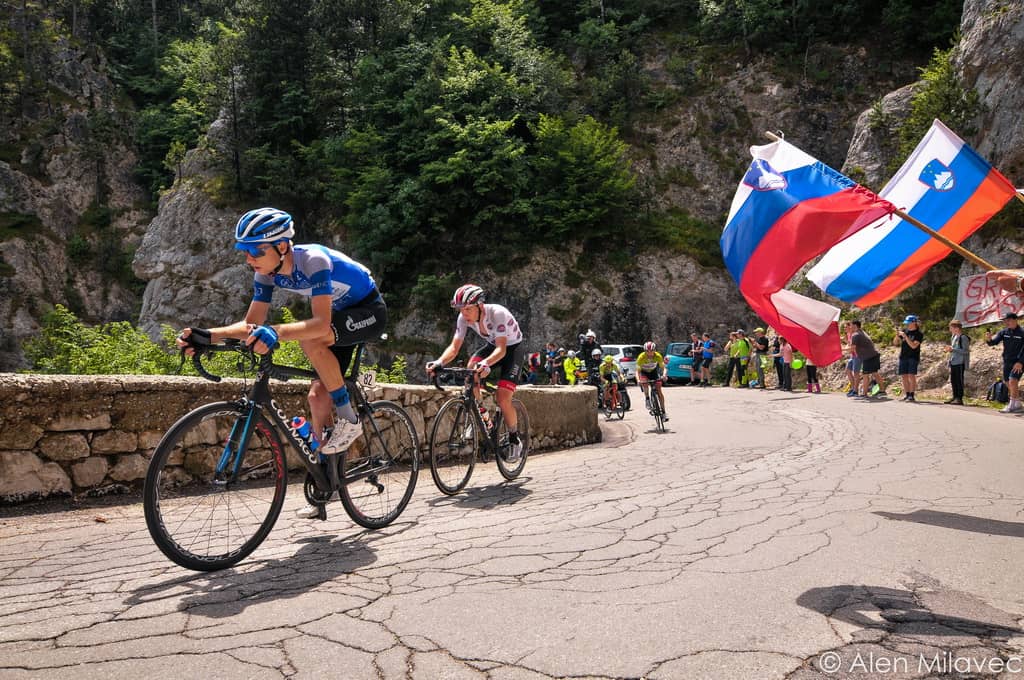 If you aren't feeling that adventurous, you can always opt for the fertile plain in the middle of the hills and go for a ride along the Vipava river.  Generally, everywhere you will cycle, you will be awarded superb views.  
Last but not least you will be spoiled with good weather, picturesque cycling, able to see winemaking and taste unique varieties all within amiable people. And away from big crowds. Here you can relax and have time and nature just for yourself.