Road cycling is just as popular in Slovenia as in the other Central European countries and has a huge fan base. Here in Green Slovenia, it is by far the most popular cycling discipline and also one of our favourite free-time activities. So don't be shy.. and if you want, you can easily find like-minded locals here and go out for a ride together!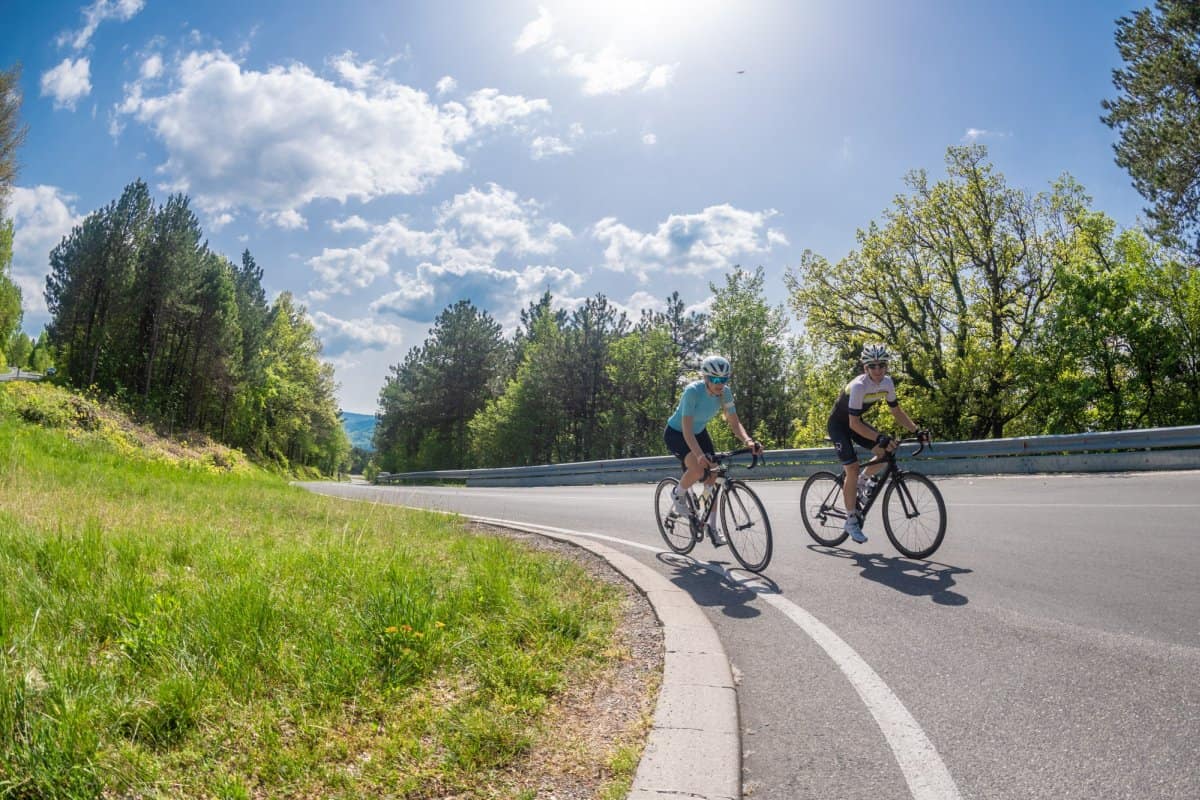 Why is Slovenia a great road cycling destination?
The very best routes for road cycling in Slovenia
The best road cycling events in Slovenia
Famous Slovenian bike riders
"It is by riding a bicycle that you learn the contours of a country best, since you have to sweat up the hills and coast down them."

Ernest Hemingway,
Well, we couldn't agree more with him! Taking a bicycle to discover new places is simply the best way to get out there in nature with nothing limiting your views. And as you will be on vacation, you will have all the time in the world to take that extra bend or explore that hidden turn leading to more adventures!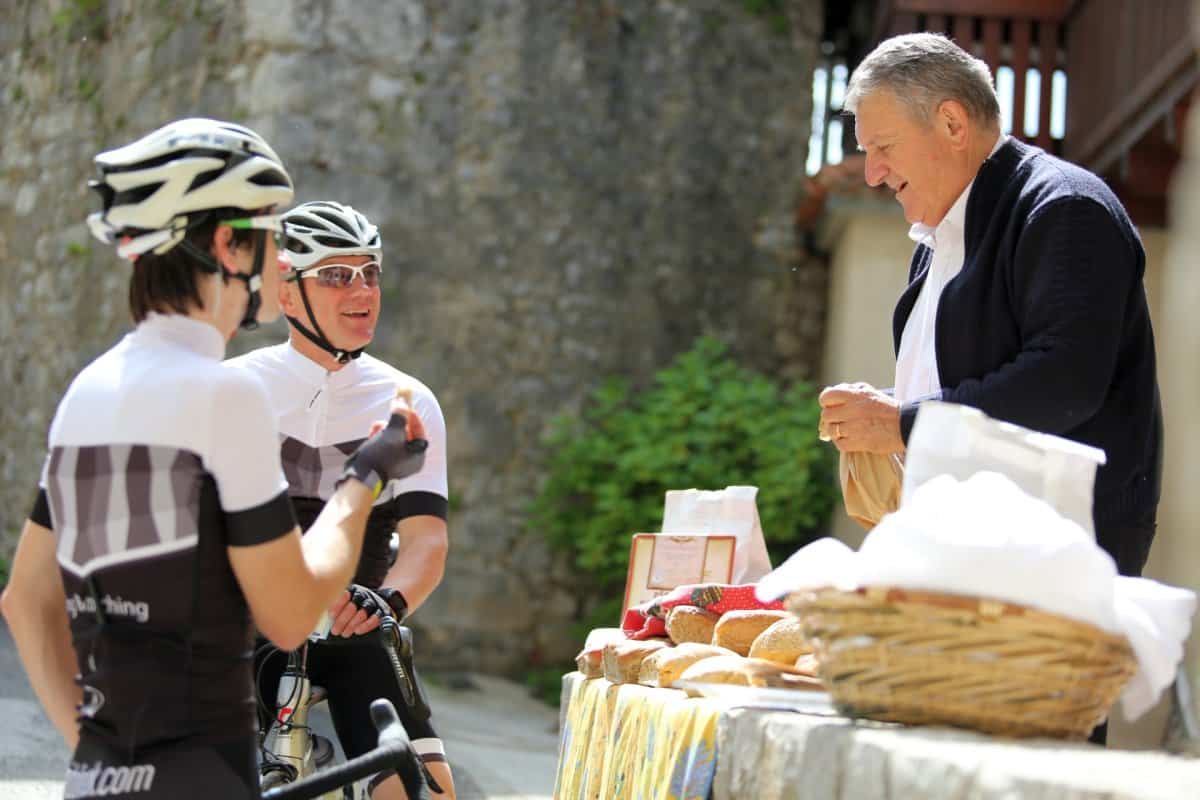 The best road cycling climbs
Slovenia is a perfect natural playground for outdoor sports. With our diverse landscape and unspoiled nature we can offer pretty much every type of terrain. In the north there are 3 Alpine regions, the largest being the "Julian Alps", with peaks approaching 3,000 metres (6560 ft). Mountain ranges are brilliant at dividing and hiding one part of the sensational landscape from another and making excellent natural obstacles for people, especially on bicycles. Humans have always been curious and driven to use their own power to reach these peaks and to find out what is on the other side.. and to do this you have to reach the pinnacle of a road cyclists' obsession.. the mountain pass!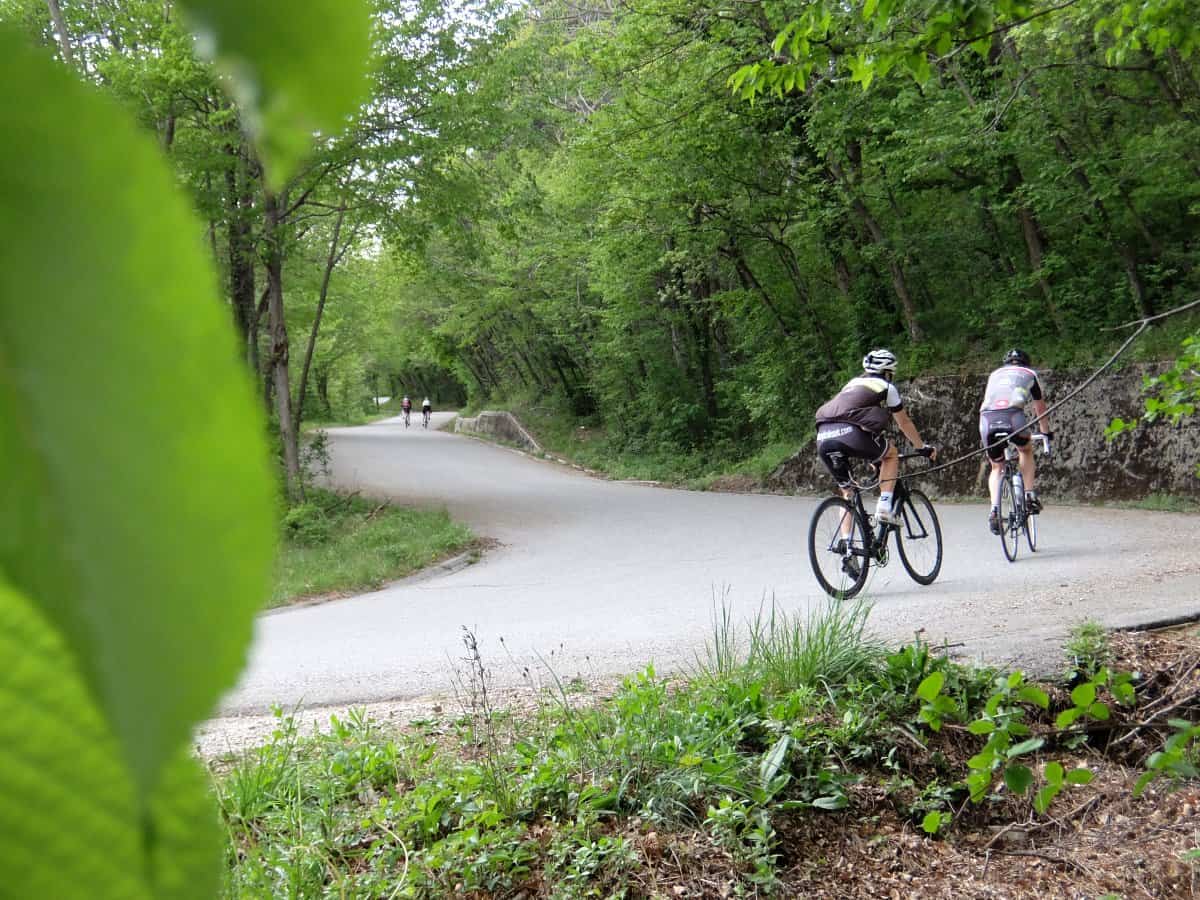 The mythical Vršič pass by bike
Don't miss out on the highest Slovenian pass – the unpronounceable Vršič pass, which connects Slovenia's main skiing location, Kranjska Gora in the north with the magnificent Trenta Alpine valley in the south. The road winds up elegantly under high mountain walls in the heart of the Julian Alps. If you ride 12 km (7.5 miles) up from the north side or 13 km (8 miles) from the south, you will reach 1,611 metres (5285 ft) at the top. Just like Alpe d' Huez, each hairpin bend has a number and in total there are 50 turns, up and down! But did you know that the Vršič pass was the first to use these numbered bends?!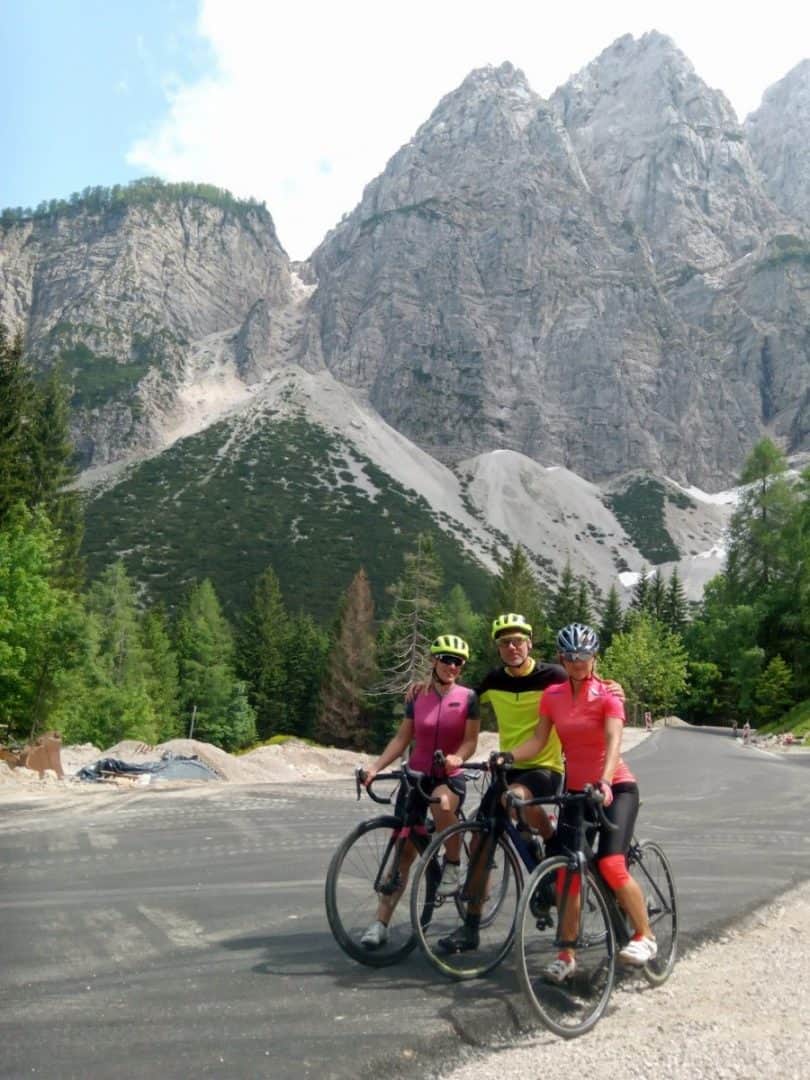 The pass was already in use when it was paved by Russian prisoners of war back in 1917, under the orders of the Austrian command. And some of the turns still have the original cobble stones, making this pass a truly remarkable and historic riding experience! On the way up from the Kranjska Gora side, the "Pagan Girl" will be watching your efforts. This natural monument is amazing; sheer cliff wall, carved by centuries of harsh weather conditions, sculptured a beautiful face of a girl out of the pure rock!
The highest cycling route in Slovenia
And if we stay in the mountains, then my favourite cycling road is the very highest one that takes you to the Mangart saddle. You can find it north of the pretty Alpine village of Bovec if you go up, direction Italy to the Predel pass at the Slovene/Italian border crossing. After turning off the main road, there are 11 km (6.8 miles) and 1.000 metres (3,280 ft) to go before reaching the top.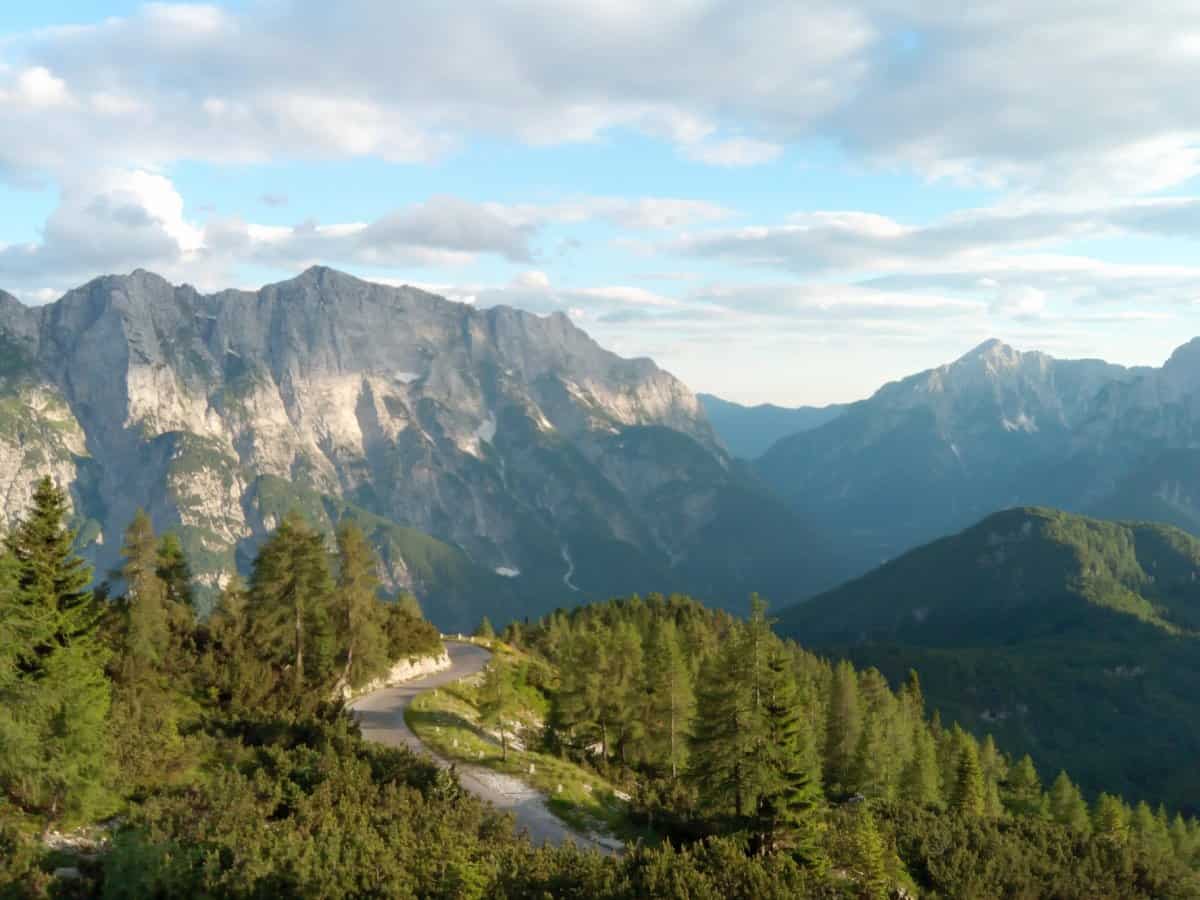 The first section navigates a huge avalanche site and then dives into the forest. But when this narrow road pops you out over the tree line the views become truly outstanding. At the top you get an unrestricted view over the valleys and across to the neighbouring mountains. Plus you can check what Italians are doing on the other side!
Don't forget to bring some lights with you as on the way up you cycle through five unlit tunnels carved straight into the rock.. No concrete here. This dead-end road goes up to 2,055 metres (6742 ft) and will get you as close as a road bike can to the top of Slovenia's third highest peak Mt Mangart at 2,679m.
The best time for road cycling
Please note that high mountain roads in Slovenia can often be closed early in the year or in the autumn. Mangart is shut for the whole winter and usually opens again at the start of May. However Vršič is often open longer and put into service earlier – it just depends on the winter. But do not let this stop you coming here in the spring or autumn.. there are lots and lots of roads to ride.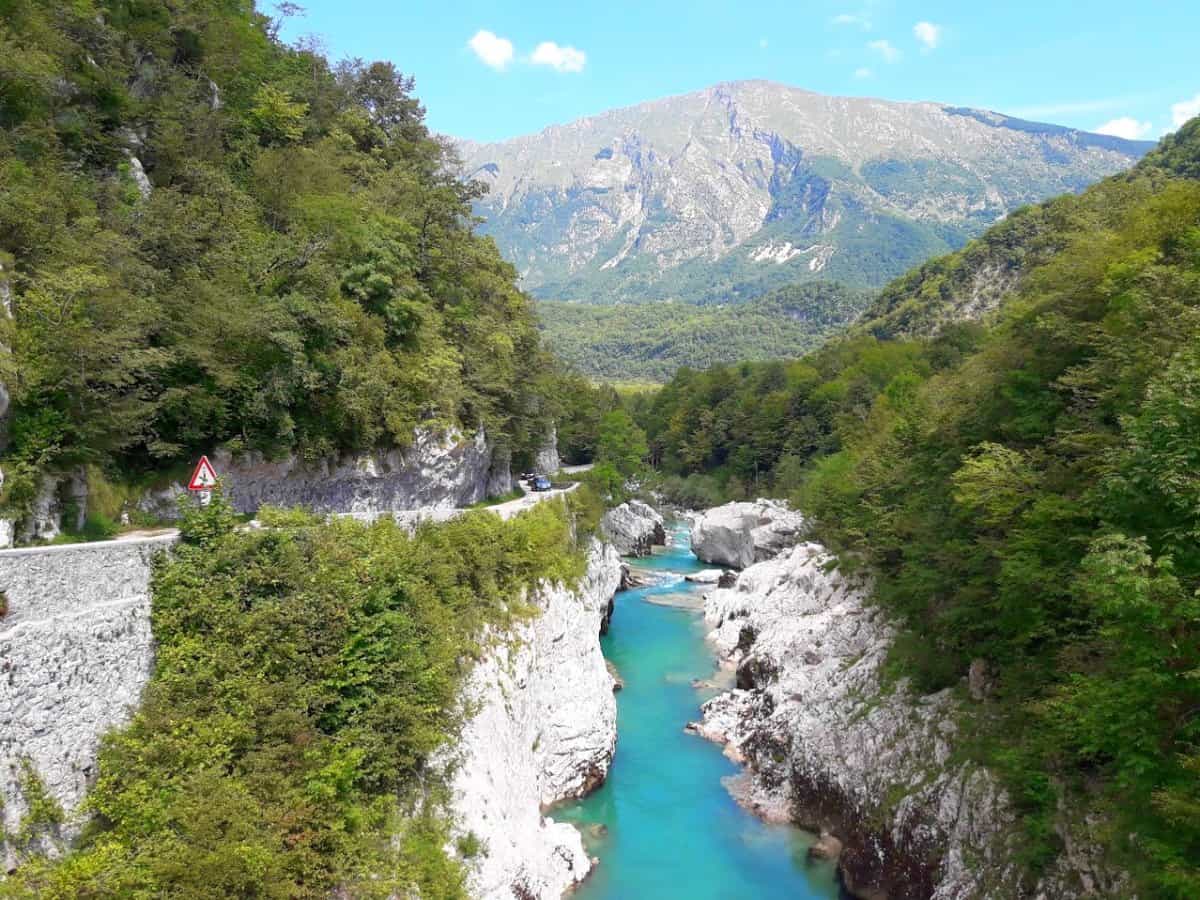 The incredibly diverse landscape we have here in Slovenia means there are always plenty of cycling options all year round. The best places are the Vipava valley, the Karst and Slovenian Istria, all by the Mediterranean coast. These regions get warm sea air and so are often 5 – 10 C warmer than the rest of Slovenia!
Easy road cycling routes
Most visitors to Slovenia stay in the western part, but you should know that the East is also an excellent place for those maybe not so well prepared for big mountains. You could also combine cycling with some relax time in the numerous spas on this side of the country. (But if you still want to take those iconic climbs, but your power for them is not there yet we can help you out, please just get in touch with Rockvelo.)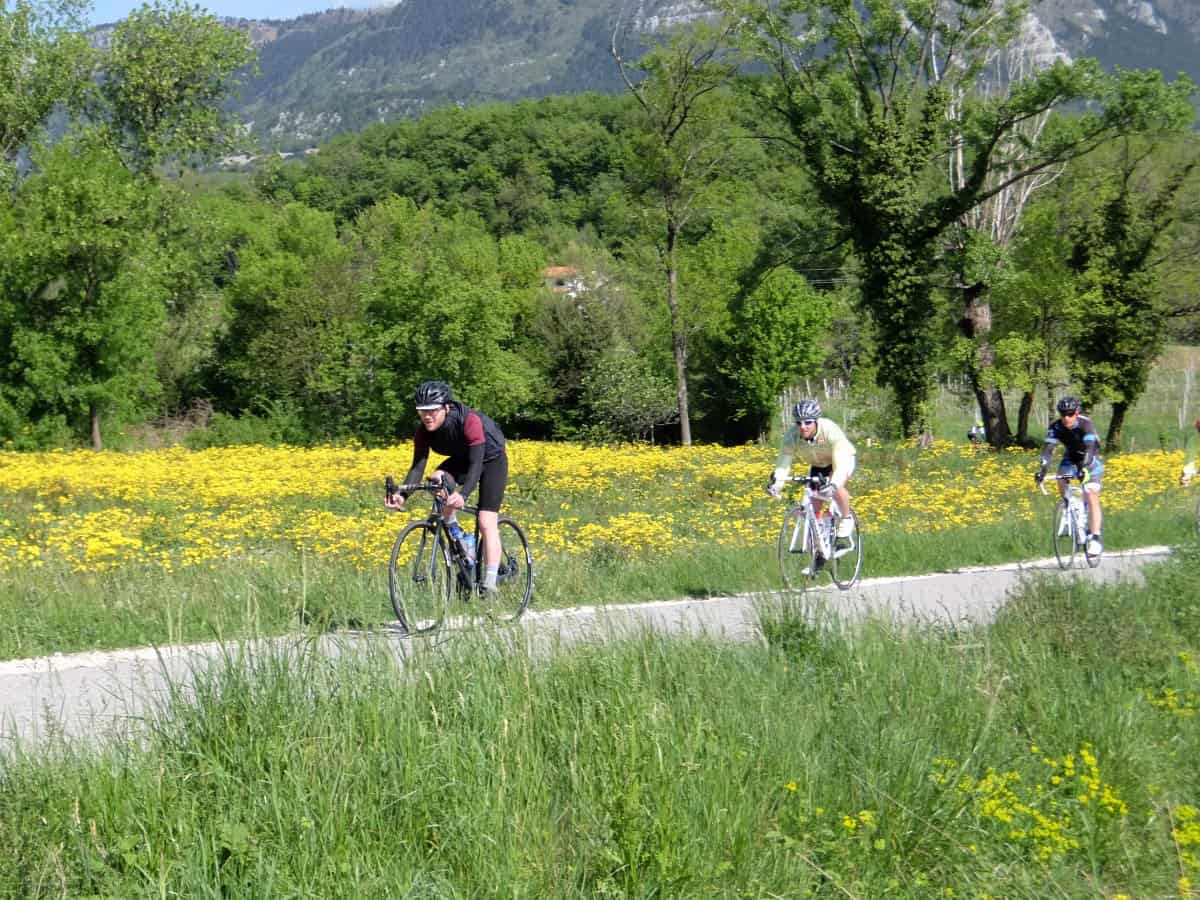 And you don't have to ditch 2 wheels just because you are spending time in the capital either. As Ljubljana is way smaller than most capital cities you will know, so you can be out of the urban area onto quiet countryside roads in less than 15 minutes. You could opt for a flat ride on the Ljubljana Marshes or decide to explore the nearby hills. For a shorter ride less than 50 km, we suggest you head east to the Zasavje hills. A popular destination there is Pance where you can get an excellent view to the Kamnik Savinja Alps and neighbouring valleys. On top, you can grab a coffee and chat with other cyclists as this is a favourite biking spot and you will get a warm welcome here. So even in Ljubljana you are not far from the mountains. Your options are really endless in Slovenia!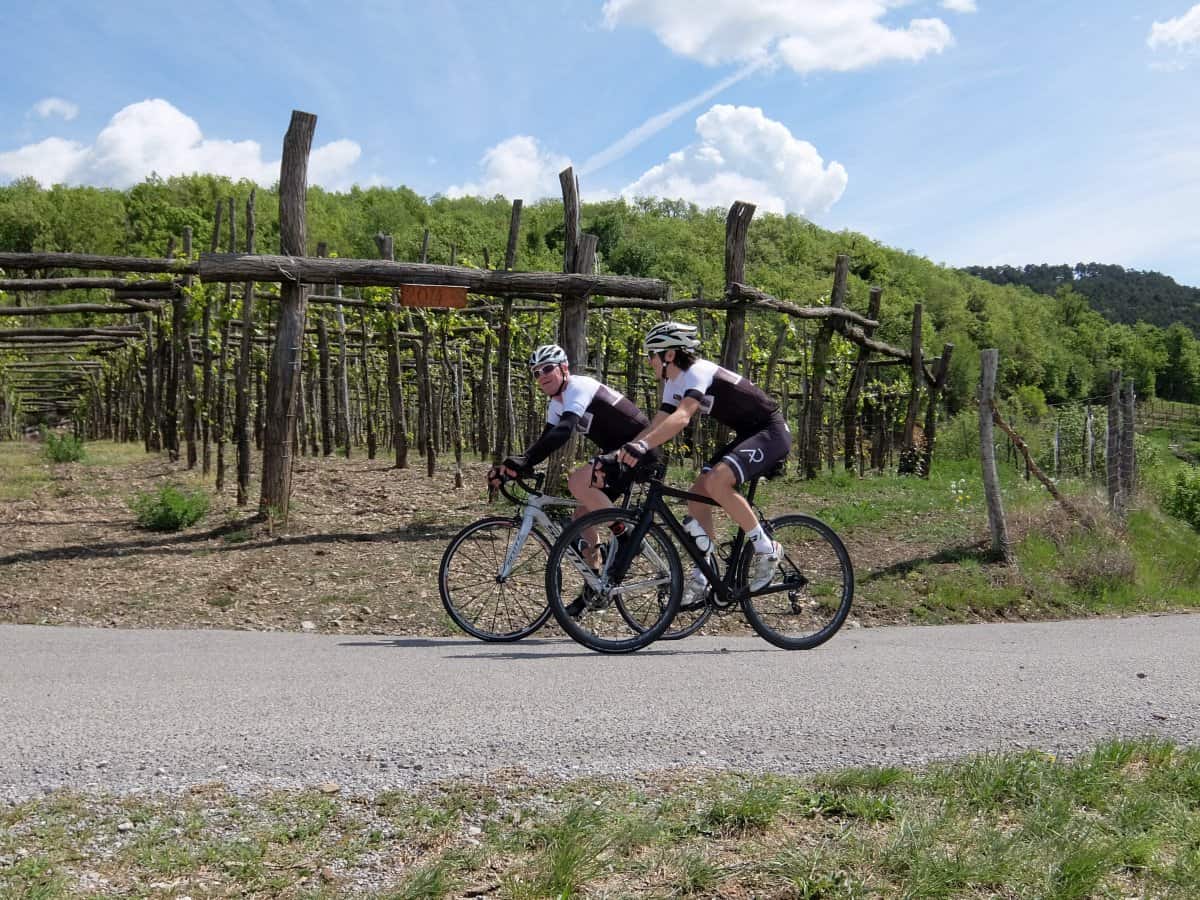 Cycling events in Slovenia
You also get a feel of how popular road cycling is in Slovenia from the numerous cycling marathons here and a full calendar of amateur races and events. The oldest recreative cycling event is "Juriš na Vršič" – an ascent race to the top of the Vršič pass. It takes place on the first Saturday in September with a start in Kranjska Gora. This year (2020) is the 42nd anniversary of the event and it has taken place every year except one, when cancelled due to an avalanche. The course is 13.5 km (8.4 miles) long and cyclists ascend 810 metres (2,657 ft). Why not give it a go this year? If you are interested in taking part in this or other cycling events in Slovenia, then get in touch with us at Rockvelo, we are happy to help!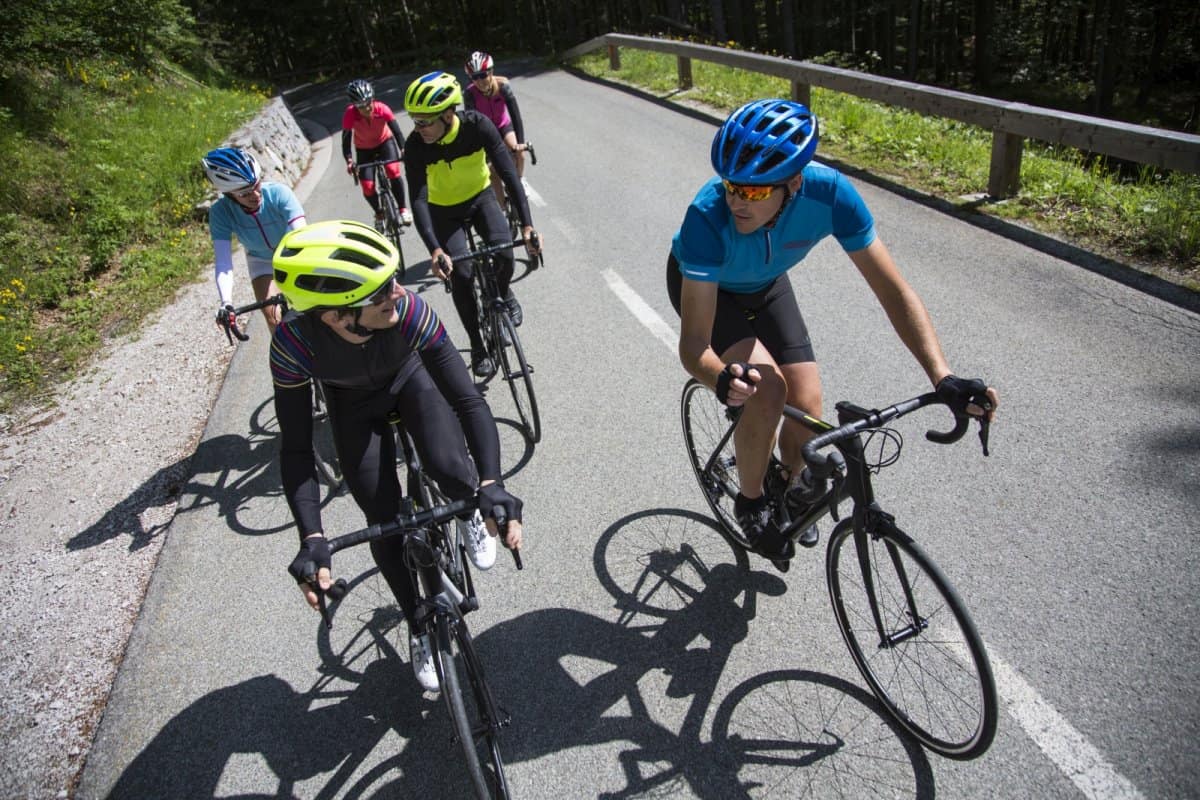 Let's move on from the oldest to the biggest cycling event in Slovenia for non-professionals – "Maraton Franja". Now in it's 38th year, this event has grown from a single marathon to a weekend packed with different activities. The two main events are the original 156 km (97 miles) road cycling marathon and a newer, shorter version at 97 km (60 miles). The main route has remained unchanged since the very first festival. There is something for everyone here, including for families, time trialists and gravel grinders. The Franja Marathon is most certainly a celebration of cycling in the lovely capital city of Ljubljana.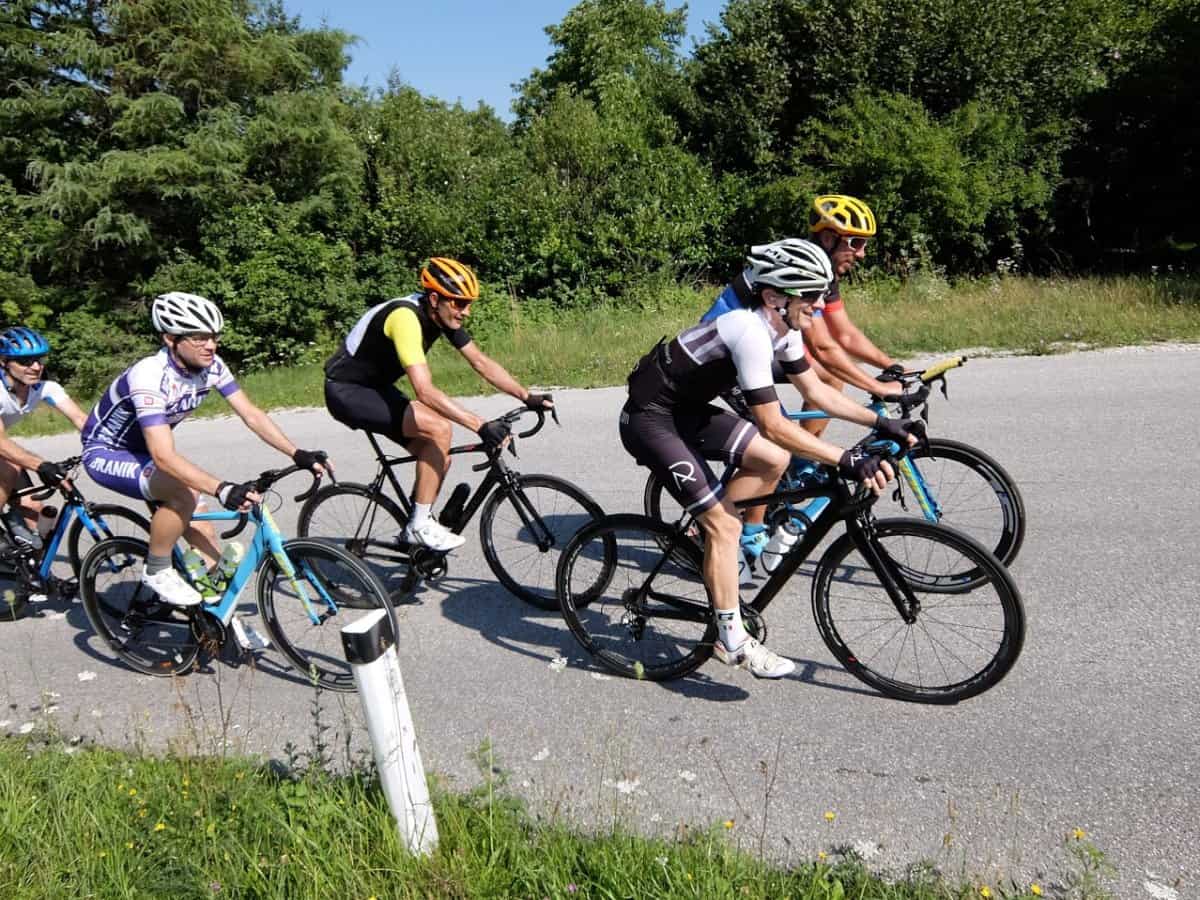 Our third tip is a little like the "Strade Bianche". It is not as established as the other two above, but is fast becoming a classic "must do" amateur event in Slovenia. It's called the "Maraton Alpe" and is probably the hardest as the 130 km (80 miles) route takes you over three passes in the Kamnik Savinja Alps – being "Jezerski vrh", "Pavličevo sedlo" and "Črnivec". Participants need to overcome more than 2,000 metres (6560 ft) of positive elevation, but in return, you get a rich reward of breathtaking views. Don't forget to bring your climbing legs! And if you can't make the actual date of the event then why not try the same route on your own another time of year? – you won't regret it!
Professional road bike racing
In addition to the many amateur events, Slovenia also has professional races. The highest UCI ranked one is the Tour of Slovenia, a five-stage race all around Slovenia. Every year it brings the most prominent names in cycling to this green country. The stunning TV pictures broadcast the beauty and challenge of Slovenia all around the world, so you can also show your mates where you rode! Although Slovenia only has two million people we have several men riding on the World tour.. 9 to be exact!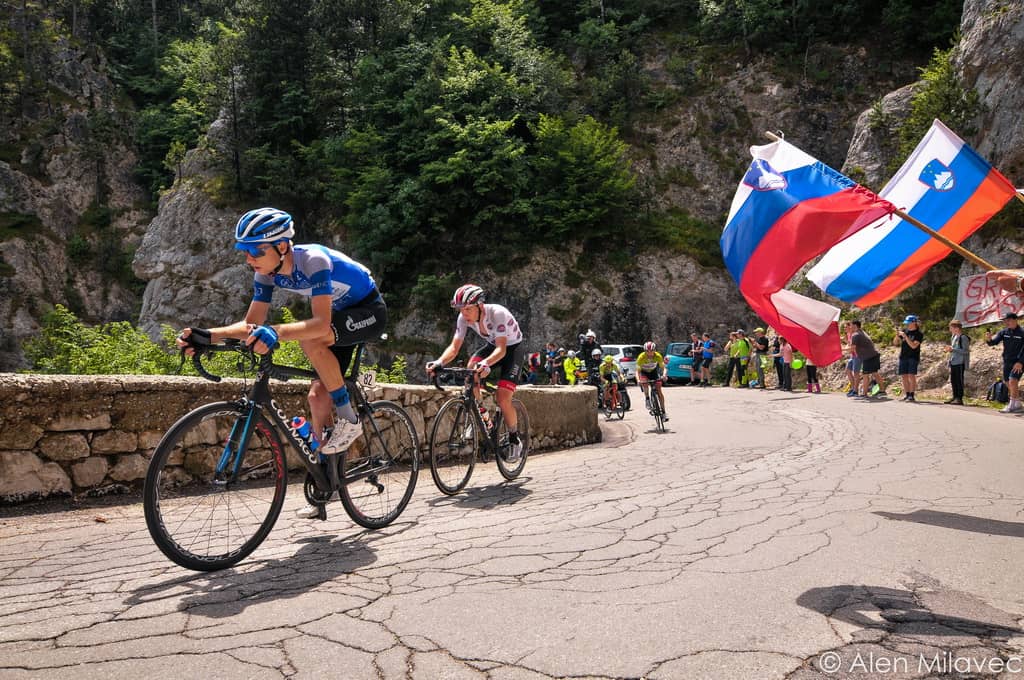 Currently the best known Slovene is Primož Roglič (Team Jumbo-Visma) after a very successful 2019 season. But we are also very proud of Tadej Pogačar (UAE-Team Emirates), Matej Mohorič (Bahrain-McLaren ) and Luka Mezgec (Mitchelton-Scott). We also have several women competitors riding in the Women's World Tour. (ALE BTC Ljubljana and other continental teams?)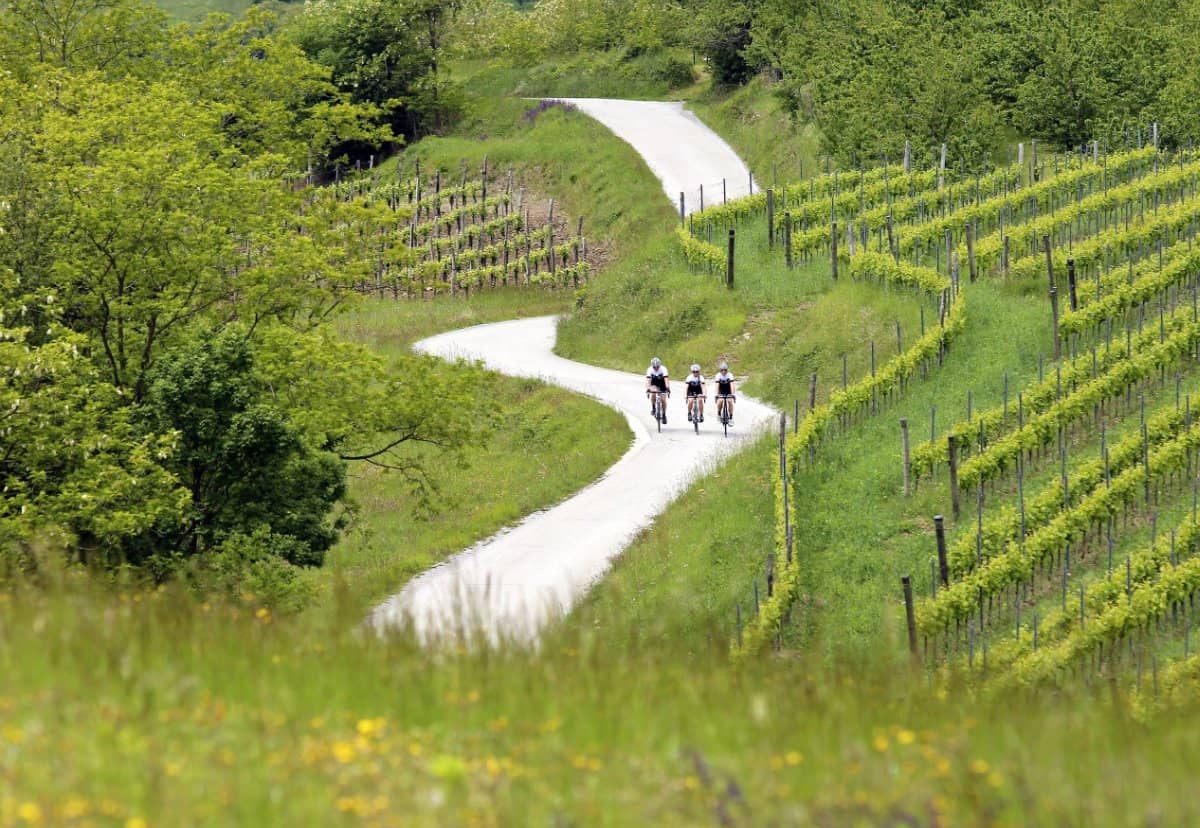 If you're thinking about the location for the next cycling holiday, then the decision shouldn't be too tricky now! Slovenia is the perfect place for a week away from the big crowds in a green cycling paradise and a choice you will remember for a lifetime!