Our new rental e-bikes have arrived! We will start the season with a brand new fleet of durable high-performance electric mountain bikes. These top of the range bikes are parked up, just waiting for you to take them out for a ride around some of Slovenia's secret regions including our own stunning green Vipava wine valley, the neighboring rocky Karst region, the gorgeous Gorica hills, the Soca river valley and all the other pretty bits of Green Slovenia.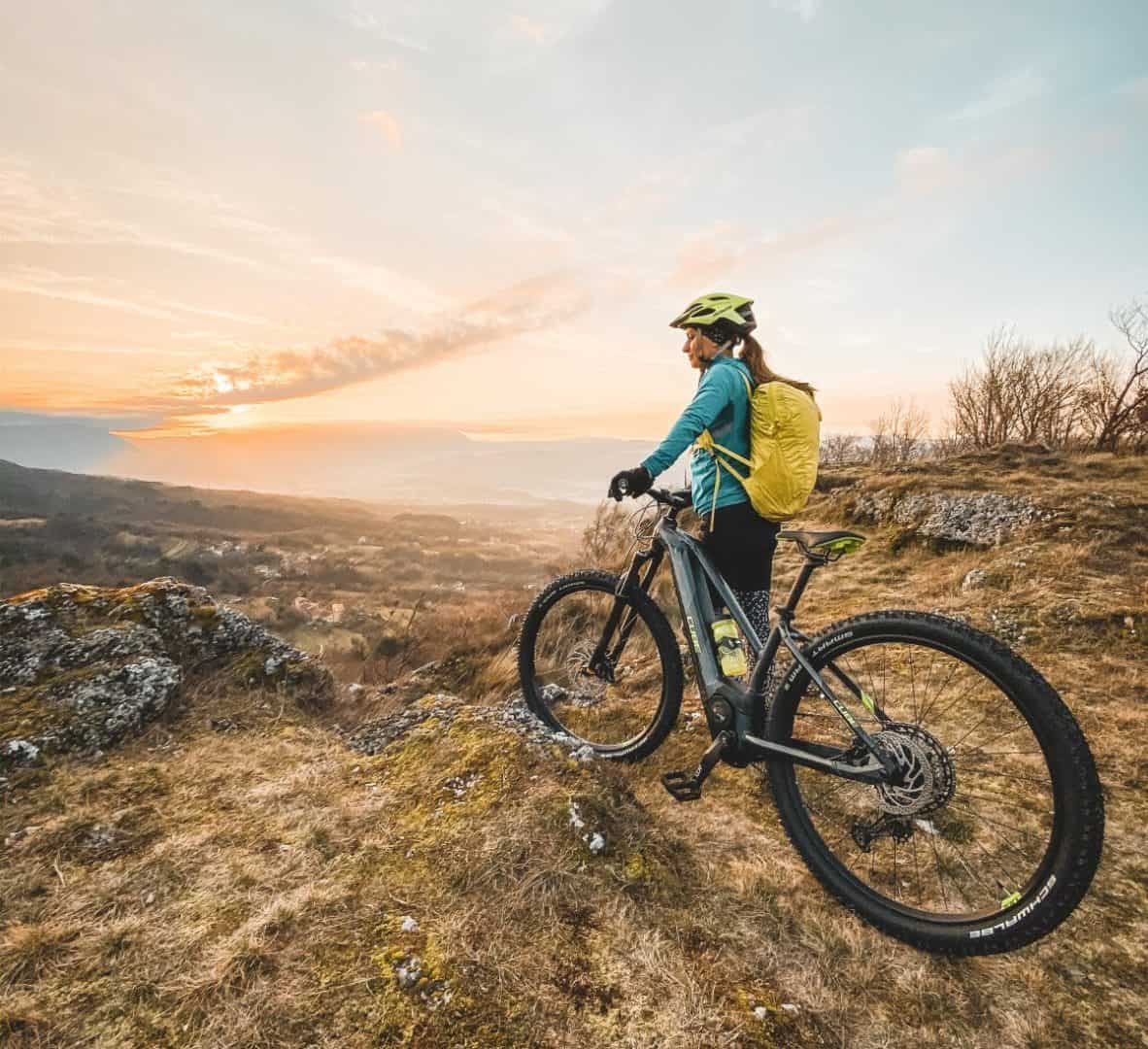 Please read on to learn more about these great rental e-bikes, how to rent them & the guiding and touring options we have available for your active holiday in Slovenia!
Why even newer rental e-bikes?
So why would we change our current E-bikes when they were also amazing and nearly new, we hear you ask? Well, simply put, we want our guests to be able to ride the latest, top of the range working bikes, the same bikes that we would love to ride if we visited a new country ourselves! E-bike technology is developing fast, so here at Rockvelo, we will always offer the latest e-bike models to help you get the very best out of your Slovenian bike adventures!
We are absolutely passionate about cycling! During the last season, our own team rode over 50.000 km! And that's why we only rent out bikes we would love to ride ourselves too!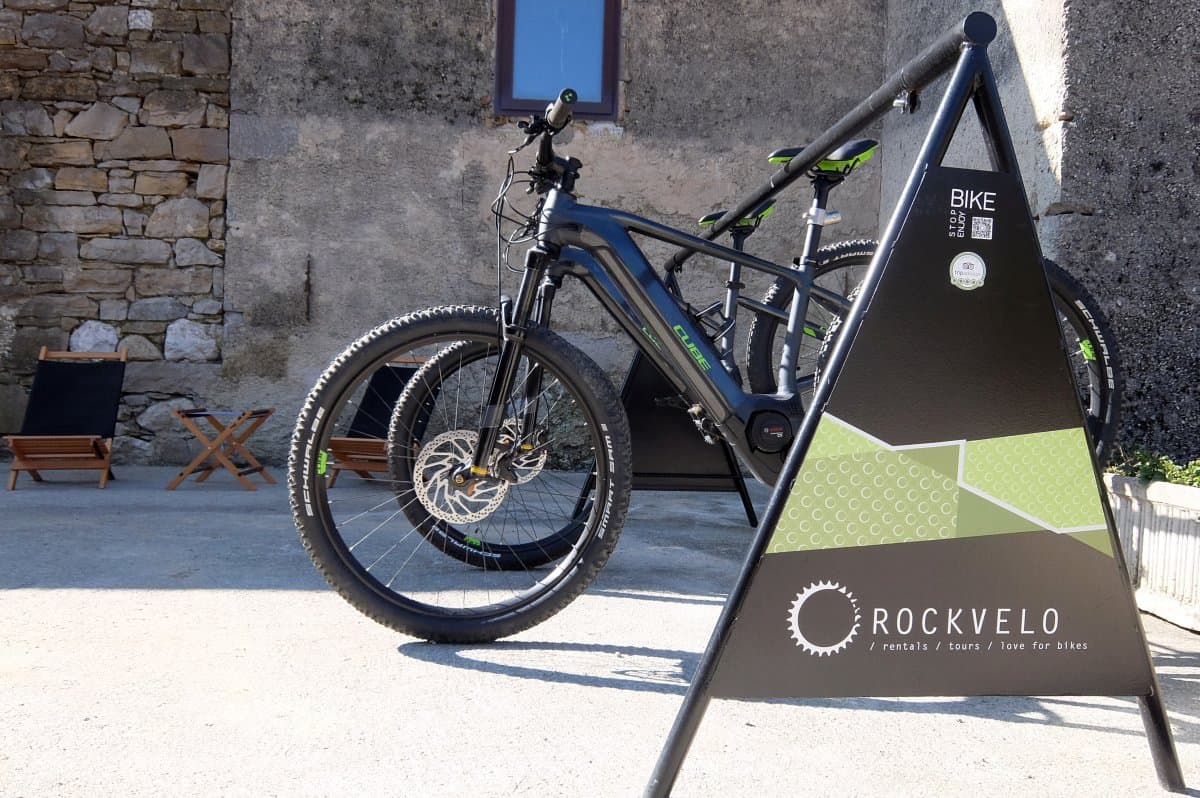 Meet your new teammate
Introduction of the CUBE Reaction rental e-bikes
So, what kind of rental e-bikes will RockVelo be offering this season? Simply said, you're getting an electric mountain bike from the German manufacturer "Cube". It`s equipped with a front suspension fork to smooth out any bumps along the way. It has a wide range of gears in combination with a Bosch motor, so every hill will be ridable, regardless of your fitness!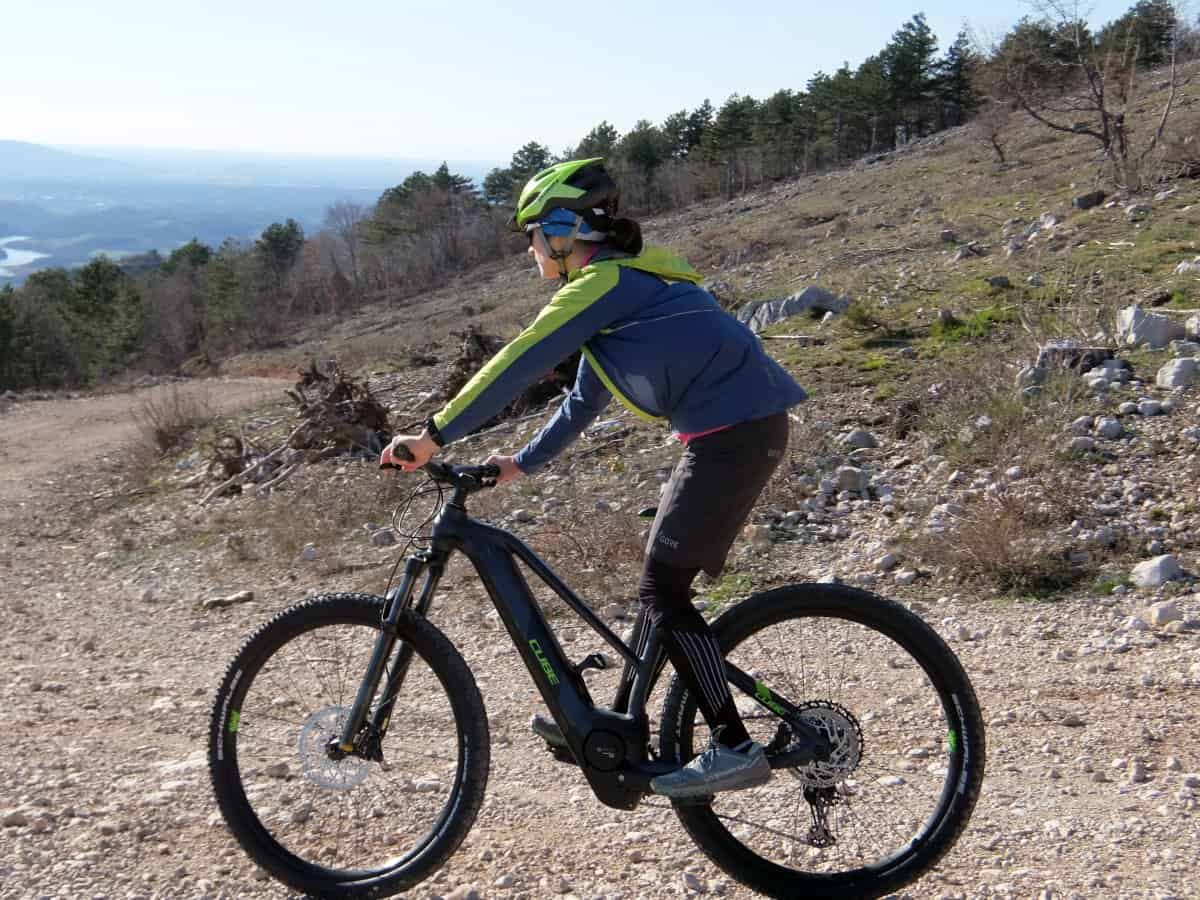 But don't worry, an E-bike is still pretty much just a mountain bike with a motor to help you reach the numerous beautiful vertical Slovenian destinations you might not get to on a regular bike. You still have to pedal of course, in fact you get to choose just how much! Even new E-bikers only need a brief introduction to master how to use this extra power and then off you roll!
In what type of riding conditions would you use an E-bike?
Quite simply… ALL! With our rental e-bikes, you can ride everything from the asphalt roads to the superb gravel tracks between vineyards! The suspension front fork and thick tires make for a very comfortable ride! The bikes are fully capable for off-road riding, but are also surprisingly fast on the road too! Keep in mind that an e-bike can help you reach 25 km/h (15,5 mp/h) with the motor on. After that, it`s just you and your own leg-power if you want to go faster!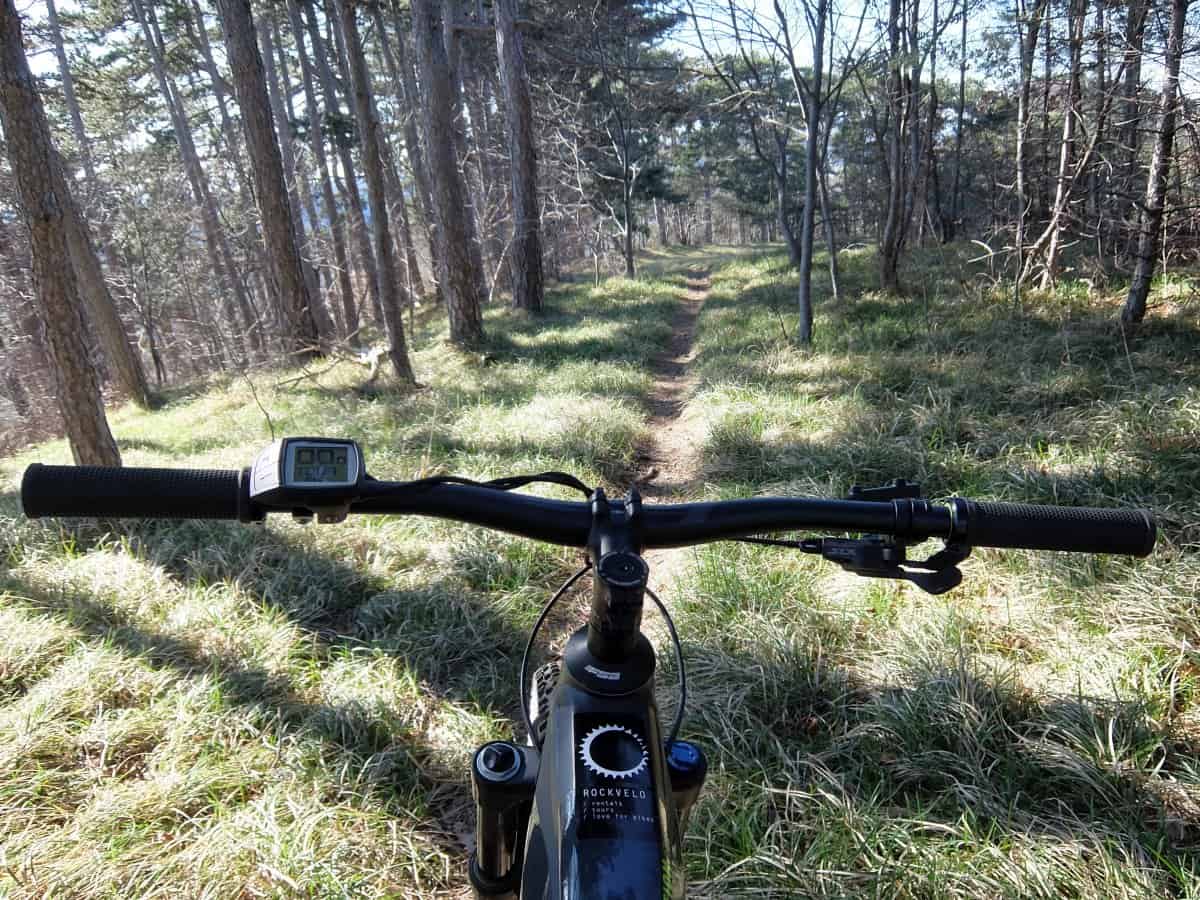 Who can ride our rental e-bikes? What sizes do we offer?
We get guests from all over the world in all shapes and sizes, so we try to have the rental bike just for you! We offer both women`s and men`s rental e-bikes in various sizes. Ladies bikes have a dropped top tube for easier mounting. Our women`s bikes can be ridden by all guests who are at least 150 cm tall and our largest men`s bike would fit a 2-metre high giant! So now it's possible to have the whole family riding these great rental e-bikes together!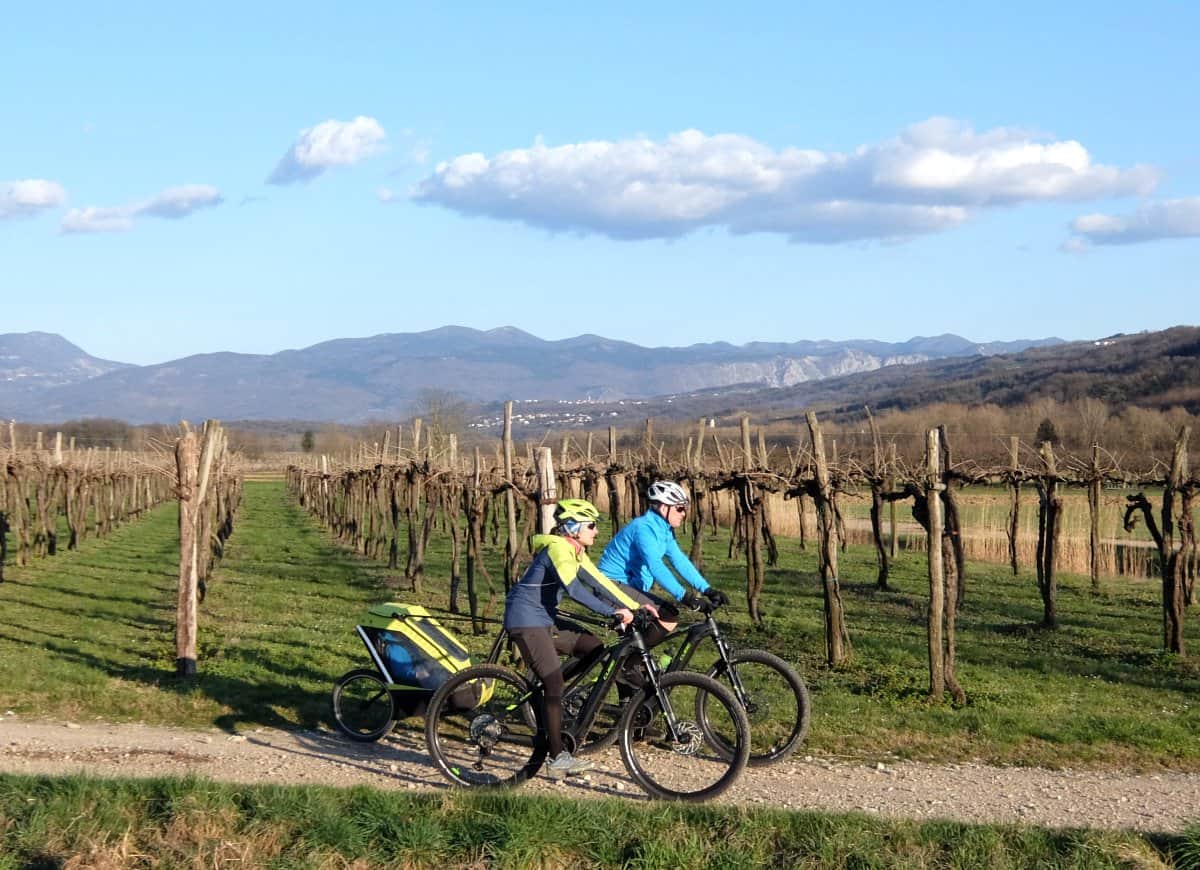 Those geeky bike specifications…
OK, let's dig deeper bike fans. The frame is made from aluminium, with a hidden motor and battery in the downtube. Like we said above, the Bosch 4th generation CX drive unit provides smooth assistance. You can select from four different support levels – our favourite is the "E-MTB" mode which automatically adopts to your riding style. Shimano's latest one-by-twelve-speed XT/ SLX drivetrain transfers power to the rear wheel effortlessly & silently. And reassuringly, Shimano's hydraulic disc brakes offer superior stopping power.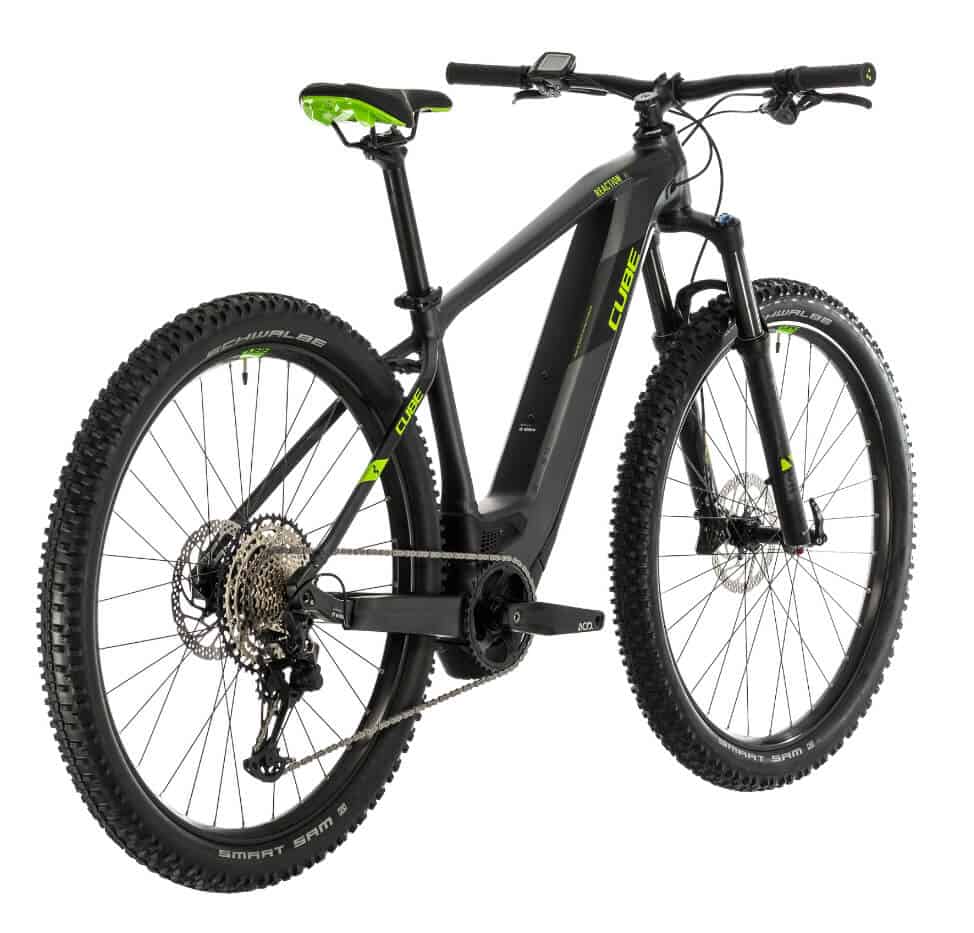 The most comfortable rental e-bikes to ride!
How comfortable the rental e-bikes feel to ride is dependant on 3 contact points with the rider. We are really excited about new e-bikes because they offer the best comfort we have ever felt on hardtail mountain bikes!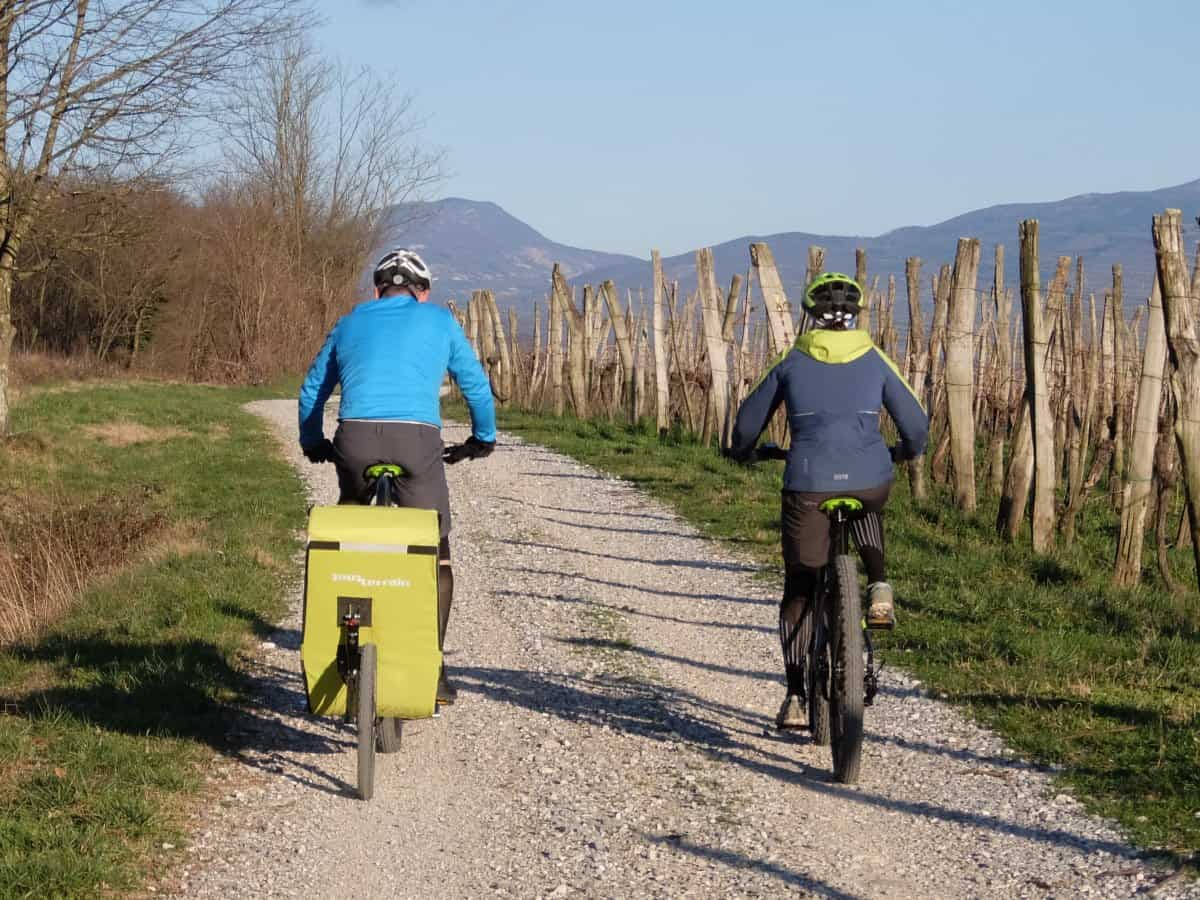 the saddle on this bike deserves a little more explanation! It`s designed for long-distance touring with E-bikes. Its shape is ergonomically optimized, with special memory foam padding applied to relieve pressure while riding on rough country roads. It`s definitely the most comfortable E-Mtb saddle we have ever ridden! So you`ll be just fine wearing regular shorts and don't need special cycling padding!
the flat pedals offer loads of grip & a wide pedaling platform.
The handlebars are just the right width, with anti-bacterial grips made from medium density rubber…griptastic!
Riding RockVelo rental e-bikes
Here is a brief ride-report after about 300km ridden on the new CUBE rental e-bike for 2020: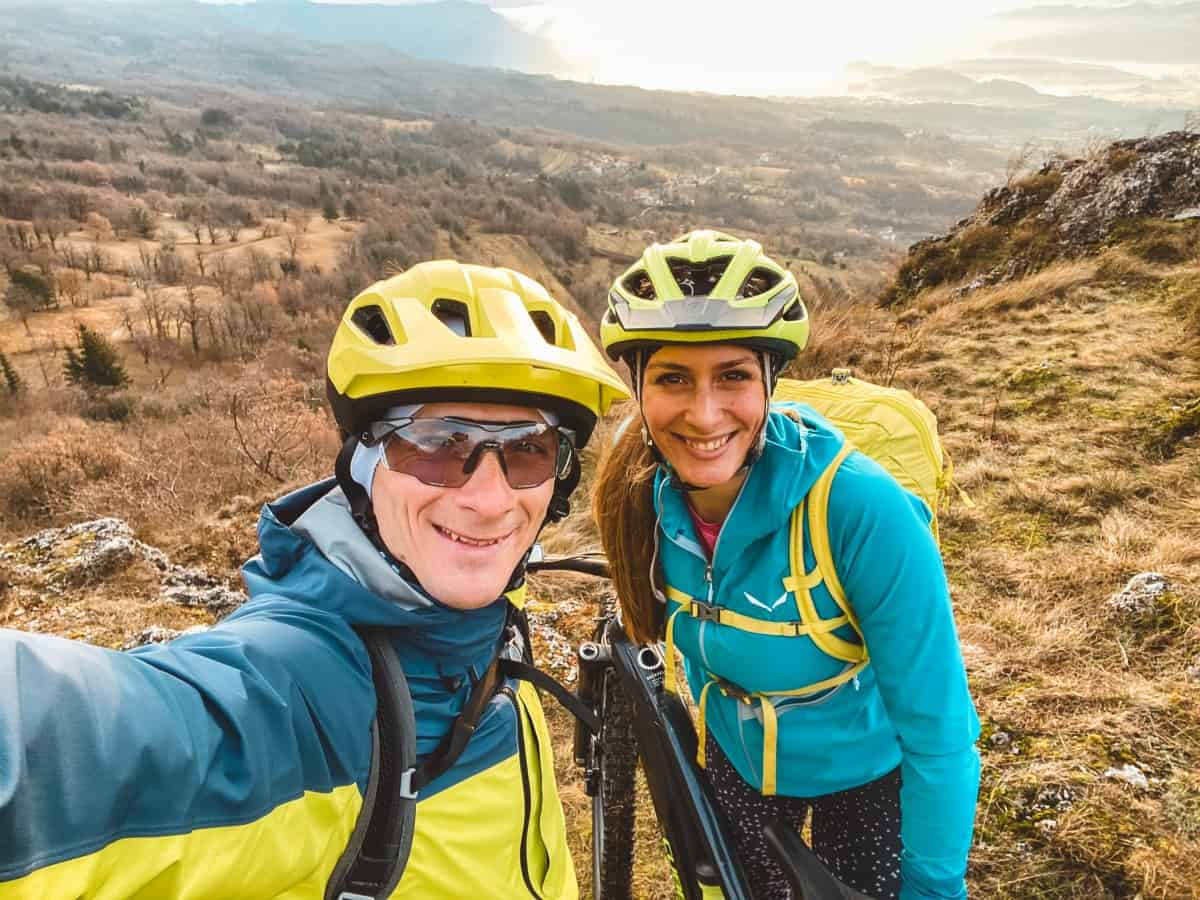 The first thing I noticed after jumping on the new rental e-bike by CUBE was how soft & smooth everything feels! The saddle is super comfy and when you combine that with cushy 2.6 wide MTB tires inflated to about 1.8bar, you are suddenly riding a sofa on two wheels! The BOSCH new generation motor is just amazing. Even with the lowest assistance setting labeled "ECO", you get enough power to ride most of the undulating terrain in the area! When things get steep, you push into E-MTB mode and it's then when the magic starts to happen! You can really fly over the hills and rough sections with this variable assistance mode and it's my favourite for sure! I have done some really technical descents with this bike and I have to say it behaves predictably & is really stable. The chunky tires offer lots of grip in corners so even the hard-core mountain bikers will get their piece of action with this baby! I was surprised by the drive train efficiency. Shifting with the new 12speed derailleur works fast, quietly and reliably. No dropped chains etc. The range with the 500Wh battery is easily north of 60km on undulating gravel terrain. I have managed to do more than 1,000m of climbing and about 50km on technical terrain, mostly using the E-mtb & TOUR settings. All in all, I am very pleased with the new bikes, they provide uncompromised quality and comfort combined with high performance. It doesn't matter if you are looking for a bike to do a leisure ride through vineyards or a more challenging MTB singletrack ride on the nearby Nanos mountain range, this bike is just perfect for anything!
Alex, chief guide for Rockvelo and founder.
Some tips about riding rental e-bikes in the Vipava valley and around
Why rent an e-bike
Our aim is simply to provide you with the best cycling experience in the amazing Vipava valley! One of the reasons our secret Slovenian location is so beautiful is because it's not as flat as a pancake, so we decided to offer you e-bikes to help you tackle all those hills on your way! And with e-bikes, you can cover greater distances in less time, so you can see and experience so much more in this wonderful valley.
If you haven't yet tried an e-bike, we invite you to do so in this cycling paradise that was pretty much made for an E-bike! We are absolutely sure you won't regret trying an E-bike and actually many guests need just one ride to realize how perfect these bikes are for the very special and beautiful terrain we have here in Slovenia.
Not sure if you would be able to handle an E-bike? Don`t worry, anyone who is used to riding an ordinary bicycle is more than capable of handling the electrified version.
Choosing the perfect route…
Our RockVelo bike rental shop is located in the centre of the most beautiful part of the Vipava valley. Which means pretty much all the "must-visit" places are just a few pedal strokes away. No matter your fitness, our e-bikes can make the whole valley accessible. But you should know that there are numerous routes and paths depending on your ambitions and time. You could easily try some demanding climbs which lead to some incredibly beautiful sights. We are experts on this valley & Green Slovenia in general, so can prepare a specific route just for you based on your wishes, time and skills. Let's talk, contact us!
Local laws about riding a bike in nature
In Slovenia, we are genuinely proud of our beautiful green nature and its great diversity in such a small country. This is why Slovenian nature is protected within national and other numerous regional parks. There is a delicate balance to consider between wanting to preserve this untouched beauty and limiting cycling off the beaten path.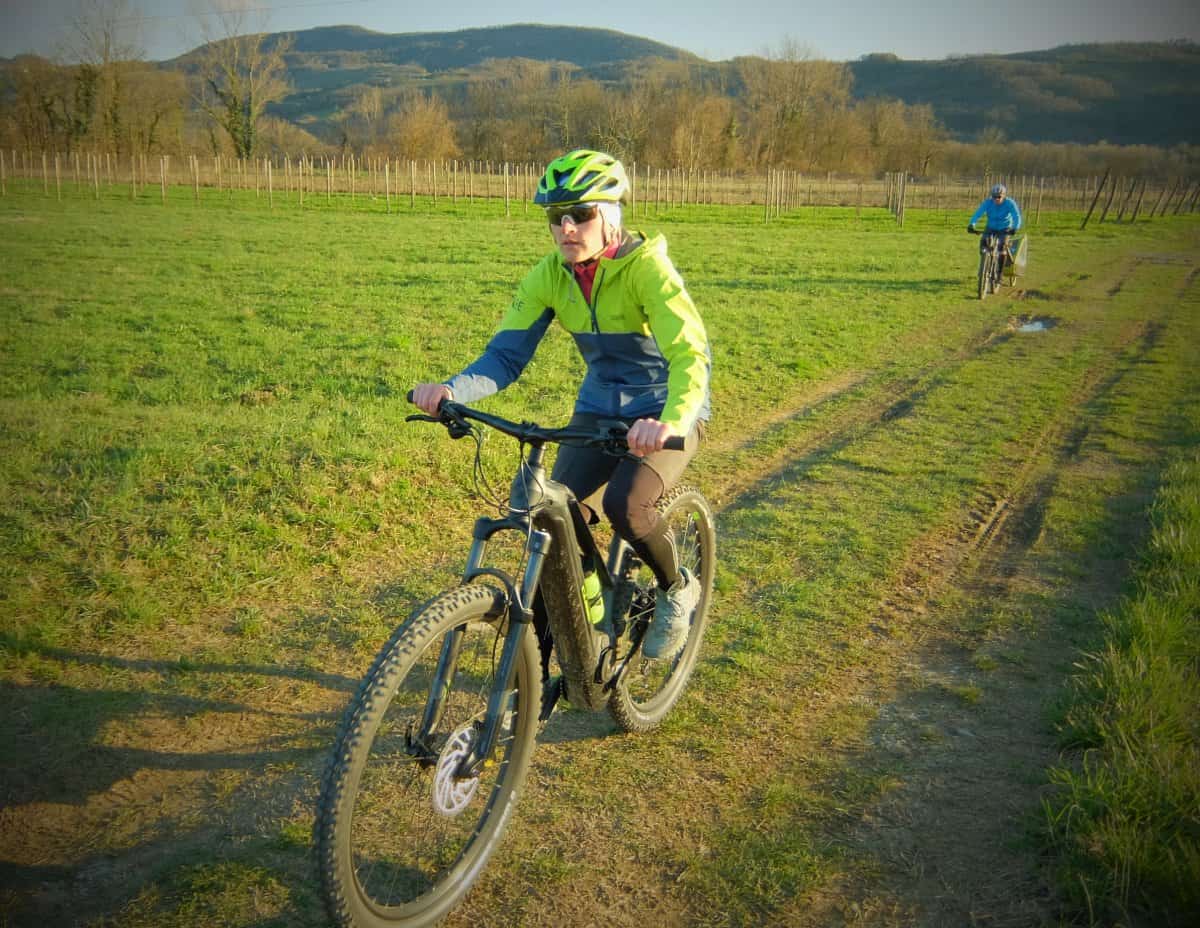 But don't worry, we know exactly where you can explore and these routes are simply numerous. There are plenty of gravel roads through vineyards and unique wines just waiting to be discovered. It would be almost impossible for you to know where all the amazing sites are or even what sites you are seeing at times and if you want to also be 100% sure you are following all local rules and respecting the environment then we strongly suggest riding with our qualified local guide.. Have peace of mind, more fun and see the very best places with a local!
E-bike Tours to consider with rental e-bikes
Here is just a glimpse of some of the great tour options you can choose from with RockVelo!
The vineyards
Our most popular ride takes you through secret vineyards, directly from Rockvelo central! See how vines are grown, meet the locals and feel the pace of life in the Vipava valley. The tour highlight is a climb made easy with the e-bikes up to visit a charming hill-top medieval village for wine tasting and sensational views of the valley. You can easily spend the whole day out & about like this and it will be a day to remember for sure!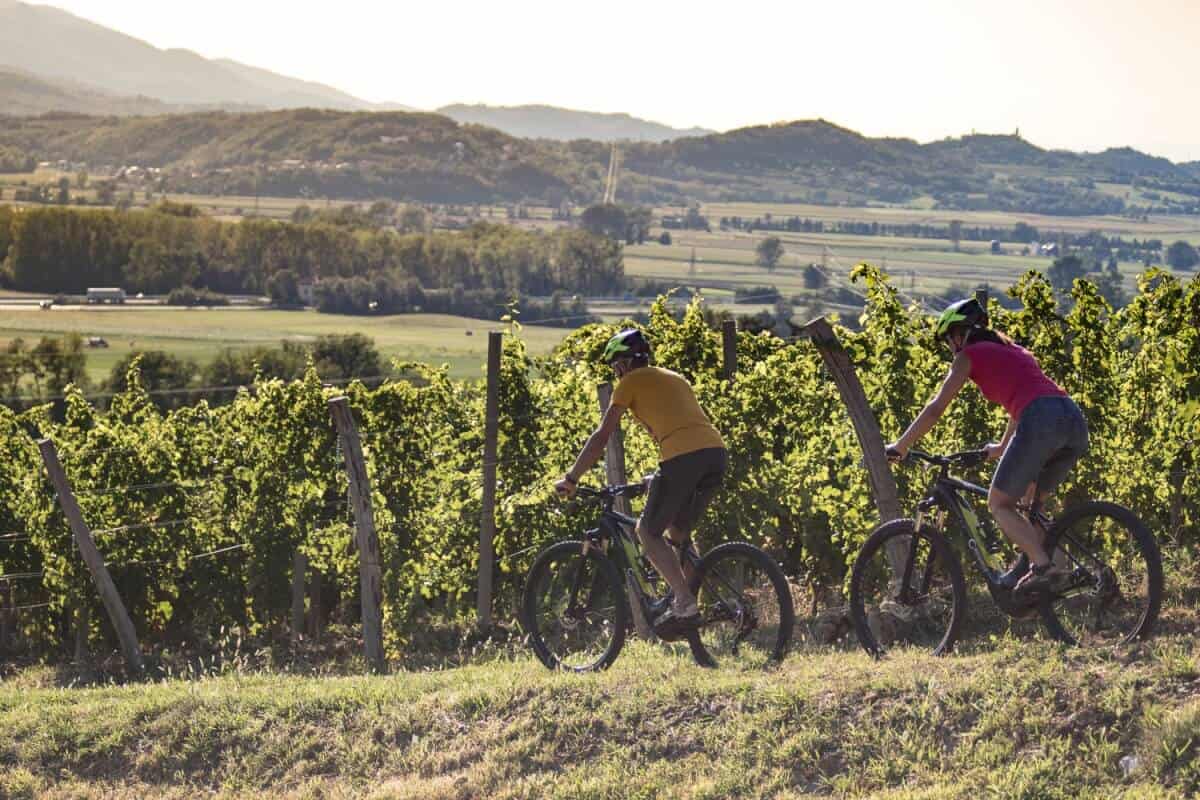 2 Unique wine regions in one day!
There are not many places in the world where you can experience two distinctively different wine landscapes in a single day – while riding a bike! The Vipava valley and neighboring Karst "Teran" wine region offer just that and our E=bikes make this dream adventure a real possibility!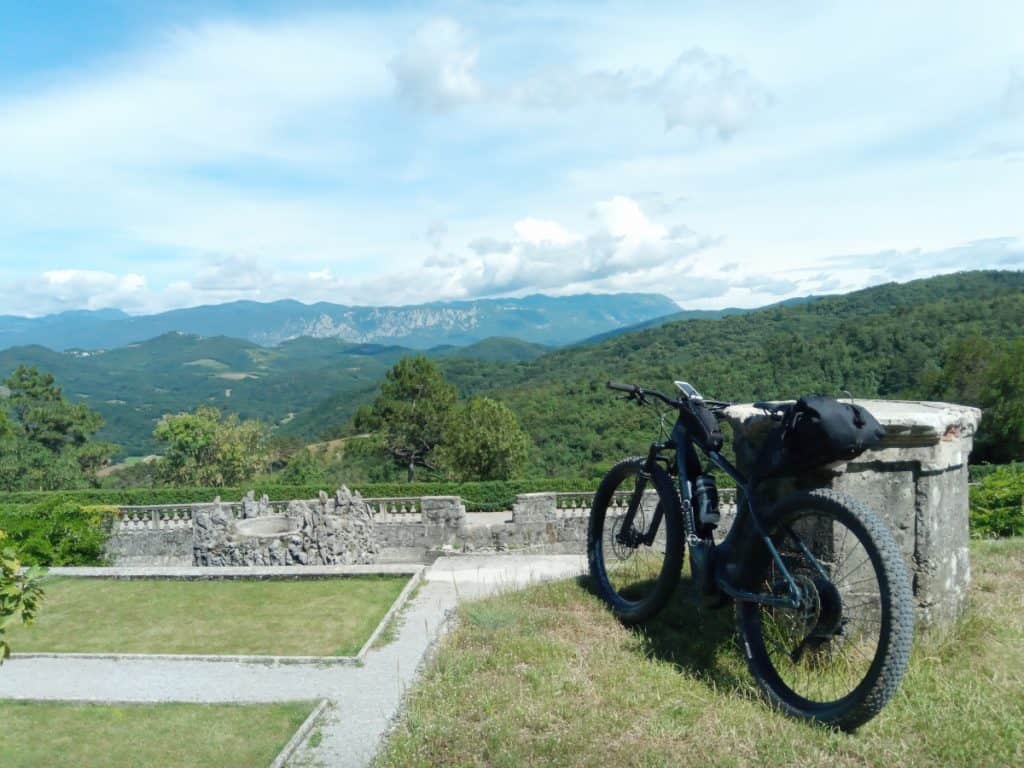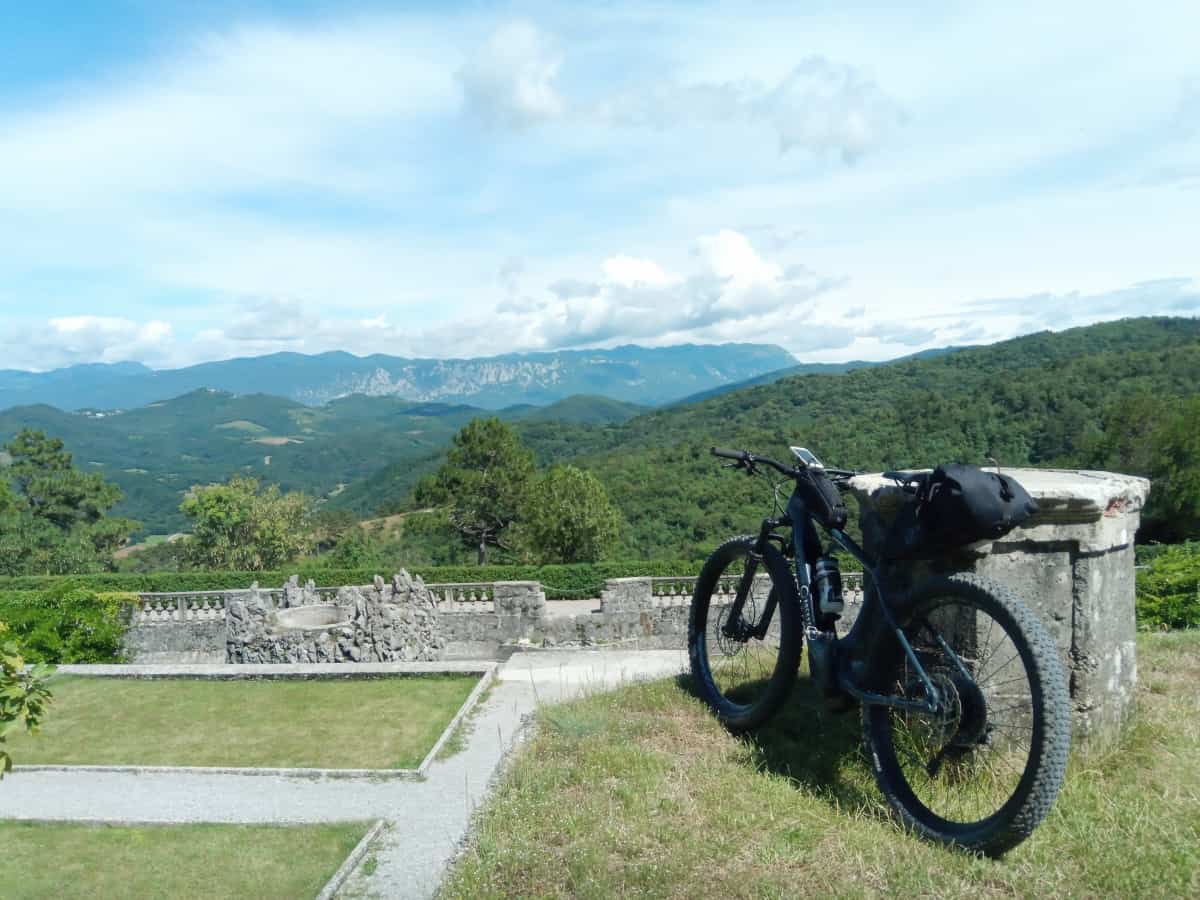 Ride through the green lush of the Vipava valley and then see the landscape change in front of your eyes as you climb up to the stone-carved Karst plateau, stuffed with vines producing completely different wine to the Vipava valley! Taste the difference in the wine and food, both strongly reflecting the amazing climate and geological opposites between these two regions you could hardly distinguish for yourself on a map.
The river tour
It`s a favorite tour on a hot summer day in the Vipava valley, when you like to bike easy and relax in the shade! Ride along the green stunning Vipava river that runs down the centre of our valley all the way to the pretty town of Vipava. Have the best ice-cream in the world and explore this tiny "little-Venice" with 7 river springs flowing in from the steep mountain rock. You might even take a refreshing dip in Vipava river on the way back!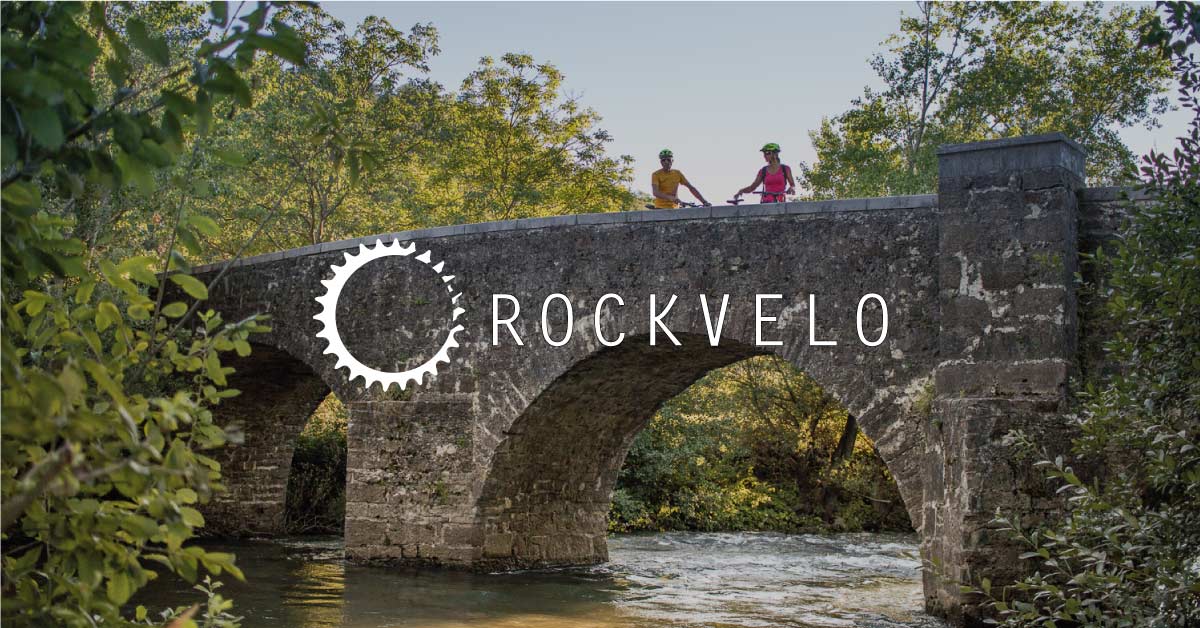 The Rock Window "Okno" tour with sunset dinner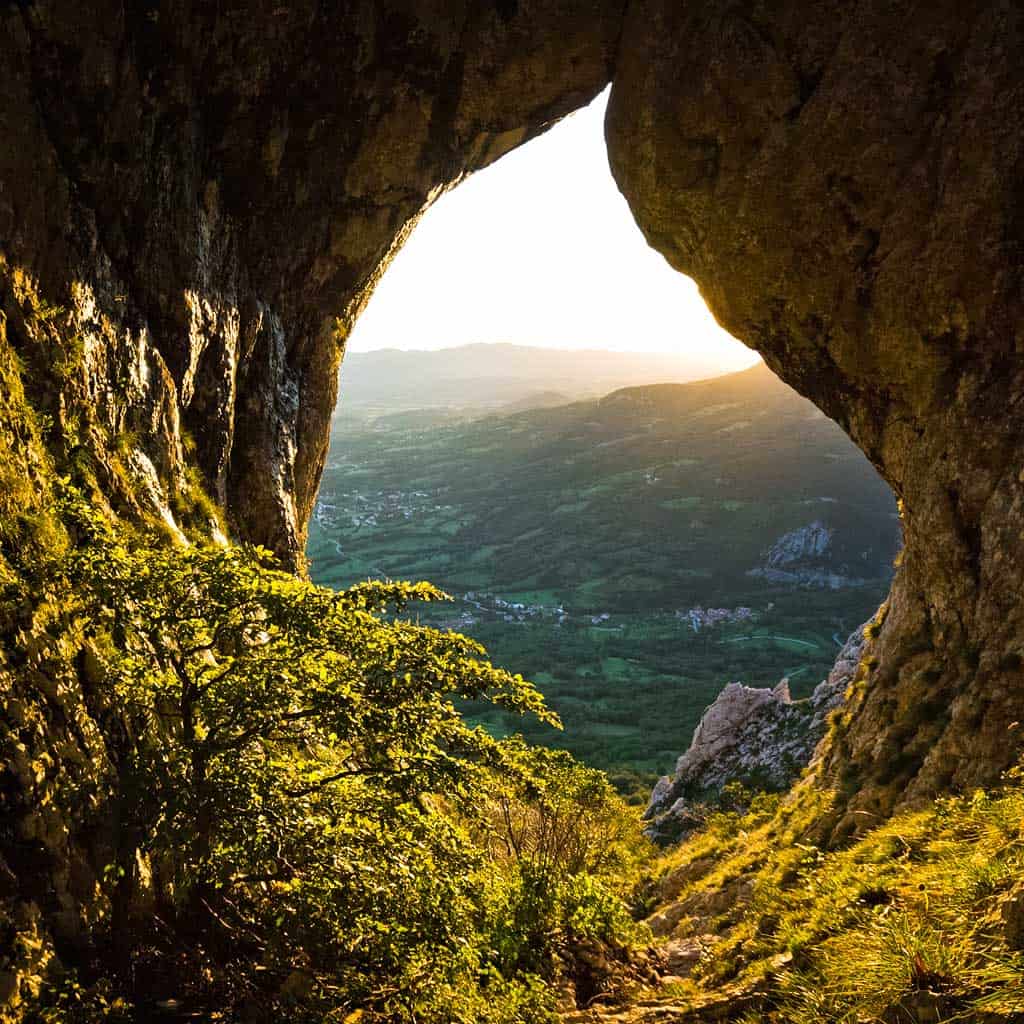 This is by no means an ordinary bike ride! You`ll climb up to 1.000m above sea level to find one of Slovenia's secret natural wonders, rumoured by locals to have been created by the Devil! This huge rock window formation allows you to look down 1,000m into the Vipava valley and is another Vipava valley "must-see". The scenic road takes us another couple of hundred metres up to the mountain top view restaurant where we finish our tour with the best dinner you have ever had!