Na dan državnosti, 25. junija je PD Ajdovščina s slovesnostjo na Koči pod Golaki odprlo 35km dolg odsek Slovenske turnokolesarske poti od Predmeje do Trstelja. Kot redni 'uporabniki' smo pri Rockvelu izjemno veseli, da pot STKP poteka tudi skozi Vipavsko dolino. Hvaležni smo, da se te poti urejajo in označujejo do te mere, da so dostopne aktivnim kolesarjem.
PD Ajdovščina je za udeležence prireditve organiziral skupen spust od koče pod Golaki do Ajdovščine. Ker dolg spust v mokrih, blatnih razmerah ne bi bil najbolj primeren za našo družino z enoletnikom v prikolici, smo se odločili, da nadaljujemo sami naprej proti Trstelju. Do koder pridemo, pridemo. Dobre volje in ob ugodni klimi smo v zgodnjem popoldnevu zavrteli pedala v smeri proti Štanjelu.
Iz Ajdovščine smo se prebili skozi nekaj gas in nato sledili oznakam ob ajdovskem Hublju. Predmestje se tu hitro zlije v podeželje in že so bili pred nami griči, zeleni od vinske trte. Čez Napoleonov most prečkamo reko Vipavo in v Dolenjah sledimo modrim oznakam. Tu so zadnji metri ravnine, zato si z Aleksejem zamenjava kolesi. Ker sem po tej poti že peljala (bolje rečeno – rinila), sem vedela, kaj me čaka. Pot se namreč začne strmo vzpenjati po kolovozu, ki je mestoma tehnično zahteven. No, kondicijsko pa sploh. K sreči nam pomaga 'nevidna roka' ali bolje rečeno noga. Tako zapeljemo v kratek, a strm breg in dosežemo cerkev Sv. Marjete.
Nadaljujemo spet v običajni zasedbi in z običajno 'eco' pomočjo, kajti pred nami ni več nobenega ekstrema. Zares – pot je urejena in lepo prevozna z gorskim kolesom. Iz prijetne sence prikolesarimo v vas Planina – vinski kraj s številnimi odličnimi vinarji in odličnim razgledom na Vipavsko dolino. Tu je treba biti previden, kajti le pravi stezosledci najdejo oznako, ki nas usmeri na pravo pot. Naj omenim, da sem, ko sem se prvič sama peljala tu mimo, iskala oznako vsaj pol ure, kajti izkazalo se je, da je modra črta le še zbledela lisa na večjem kamnu na poti. Kakorkoli, sledi nekaj ravnine, ki je zares lepo zvozljiva, odpre se tudi nekaj lepih razgledov. Izmenjavajo se senčni in sončni odseki, tako da je vožnja tudi sredi poletnega dneva prijetna.
Od sedla, s katerega se lahko vzpnemo na Ostri vrh, se po urejeni poti kar nekaj časa spuščamo do vasi Gabrje. Tu sledimo oznakam za Štanjel. Po krajšem odseku asfaltne ceste se spet priključimo na lep, enakomerno vzpenjajoč makadam. Vožnja poteka v prijetni senci in kljub temu, da pot ni pretirano strma, prav pride nekoliko 'električne' pomoči. Nekaj kilometrov in višincev je že v nogah, še posebej se pozna teža otroka v prikolici. Na vrhu se odpre čudovit pogled na dolino Branice. Da smo na Krasu, nas spomni cvetoči ruj, ki bo od tu dalje naš zvesti spremljevalec.
Na desni že zagledamo Štanjel – prav lep pogled na vasico je tudi s te strani. Vendar čaka nas še finalni vzpon do mestnega obzidja. Kakšna sreča, da v takšnih trenutkih lahko stisneš 'plus' in z lahkoto spelješ v klanec. Obvezen ogled Ferrarijevega vrta, nato pa na zaslužen smetanov sladoled in/ali pivo. Še sprehod po štanjelskih ulicah, preštevanje venčkov sv. Ivana, nato pa zopet pedala pod noge.
V naslednjih kilometrih sledimo Spacalovi poti. Mestoma je kar tehnična, pot se ponekod zarašča. Čaka nas slabše utrjen kolovoz, kakšen štrleč kamen, sicer pa pot ponuja lep razgled na kraško planoto na eni strani in Vipavsko dolino na drugi. Po nekaj ugibanjih, kam vodi prava pot, se peljemo mimo vasi Lukovec na prostran travnik. Tu je zopet potrebnih nekaj stezosledskih veščin – najti je treba kamen, ki nakazuje pot v levo čez travnik. Odsek vožnje po pokošeni poti je prav prijeten, vse dokler ob poti naenkrat zmanjkajo oznake. Aleksej meni, da smo na pravi poti, vendar smo najverjetneje spregledali oznako na desni. Nič hudega, gremo naprej in že čez nekaj sto metrov smo spet na označeni poti.
Prispemo do asfaltne ceste, ki povezuje Komen in Branik. Proti Trstelju bi nadaljevali naravnost.
Ker je ura že pozna, otrok nekoliko nestrpen, bomo tu našo pot zaključili. Nadaljevali bi sicer še proti Trstelju, ampak naj bo to odsek za kdaj drugič. Zavijemo še na dvorišče gradu Rihemberk, nato pa proti domu.
Zares lepa pustolovščina za celo družino! Sicer kar zahtevna, vendar z nekoliko spretnosti in kondicije zvozljiva. Na določenih mestih zahteva več pozornosti, ker se kakšna oznaka skrije, zbledi. Priporočamo tudi uporabo zemljevida ali gps sledi. Na pot se odpravite z nekaj več kondicije in seveda z brezhibnim gorskim kolesom. Nam so se električna kolesa odlično obnesla!
This is the story behind an idea of e-bike rental business we`re just starting. I think it`s a great example of advantages, electric assist bikes are bringing to a very wide range of people. Thanks for reading and looking forward to your comments!
About a year ago I was 4 months pregnant, feeling really good and not having any medical problems. As an athlete, I was really enthusiastic to stay active as much as possible. In February I was supposed to visit Canary islands for the third consecutive year. For sure I was about to travel by my bike packed and
ready to challenge myself first on Gran Canaria, then Tenerife and last, El Hierro. On Gran Canaria, I did some quite heavy rides but felt good and for sure wanted more. Being an endurance sports addict it was just impossible to stay inactive in warm weather and sunny days in the middle of winter. Feeling fresh legs and relaxed mind I did a quite demanding ride with some 1400 altitude meters of climbing. The next day I was just so scared something might go wrong with my pregnancy if I insisted in (for my current state) heavy activity.
So for our last week of the Canaries, I decided to leave the bike with a friend in Tenerife. I will just do some easy hikes in El Hierro island, I`d thought. Well, as the island is almost pocket size it shouldn`t be too difficult to get around on an a bike. Very next day, Aleksej brought in a bike for a pregnant mama. E-bike.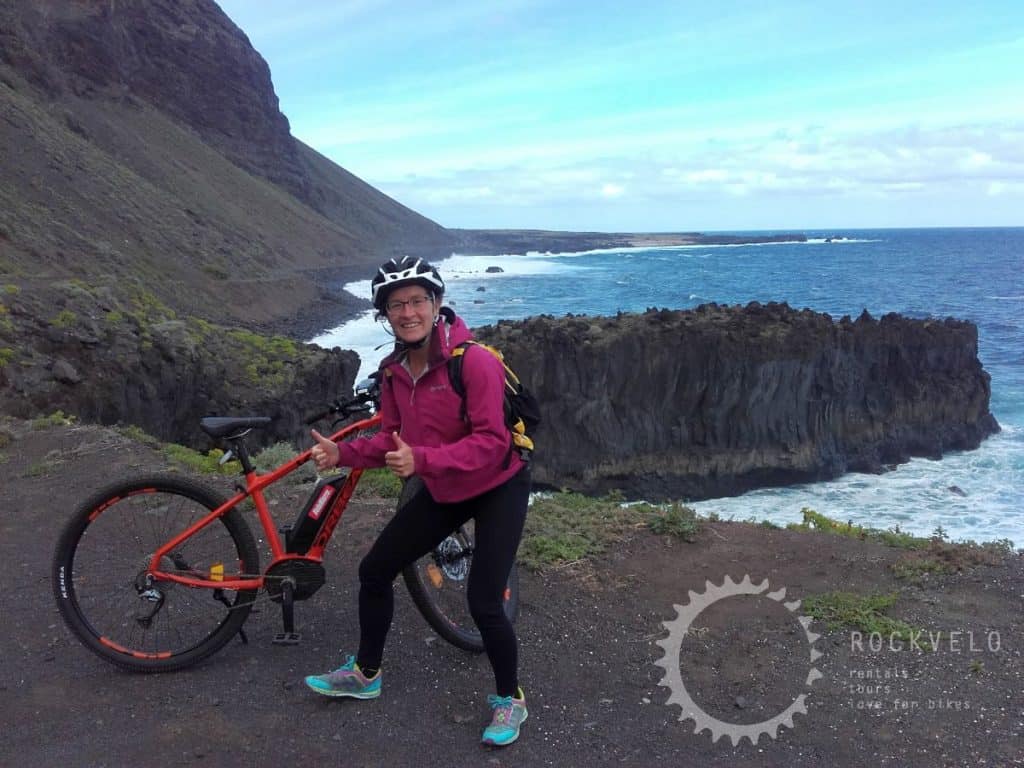 So here starts a story about our project you're just reading about. Riding an e-bike was fun. Super fun actually. I couldn`t get into my cycling jerseys anymore so I had to wear whatever else. I was really looking like a grandma, haha. The bike was sooo heavy, compared to my ultralight road bike. But, anyway, I was riding like a pro, smashing the hilly bends and enjoying amazing views. And not being sweaty at all! In the "tour" setting of motor assist, I was even faster on climbs than Aleksej with his light road bike and decent fitness level!
The longest route I did was about 90 km long loop and I we`ve seen most of the island. That ride was just amazing! Going like three times from highest ridges to seaside. The last third was a bit adventurous as the battery was running flat and there were no charging stations around. But anyway, I`ve accomplished something I could never achieve on my own power in that condition.
So what`s great about e-bike? First, I have to admit that I didn`t recognize it as such a great thing at the beginning. As an athlete, devoted to (hard) training I would feel guilty or even like cheating when getting on an e-bike. Cycling with electric power sounds fake, doesn`t it? Well, let`s look at it from another perspective. What if you are in "not so great" shape, maybe you don`t enjoy cycling that much, you have some medical problems or injuries, you're a pregnant or tired mama or cyclist`s wife? Voila – I guarantee that going by e-bike it the best possible way to discover new places! And you can go far with very controlled exertion! How cool is that?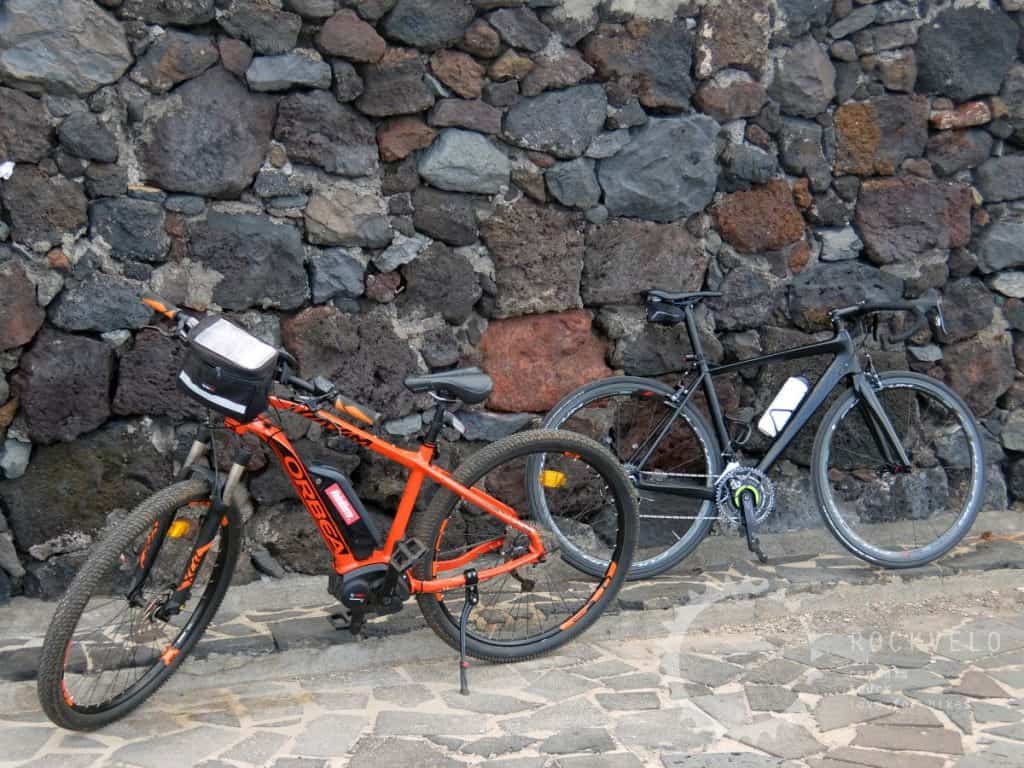 It`s how a day on remote Canarian island of El Hierro completely changed our perspective of cycling & cycling tourism. In a second we could imagine how e-bikes would transform cycling world. Suddenly being social on a bike ride is not reserved only to fit rides anymore! You are now able to ride a bike together with someone of much higher fitness. It`s being social that makes the experience of riding a bike much more enjoyable to both of you. Having fun and enjoying great company on a bike is fundamental idea of RockVelo. We strongly believe e-bikes are most important game-changer ever in cycling tourism. Visit us in Vipava Valley, take a ride with our e-bikes and you`ll for sure become as enthusiastic about them as we are!