The valley is picturesque. If you are reading this, you most likely already know that so let's just dive into the best ways to spend 36 hours in Vipava Valley.
A bird's eye view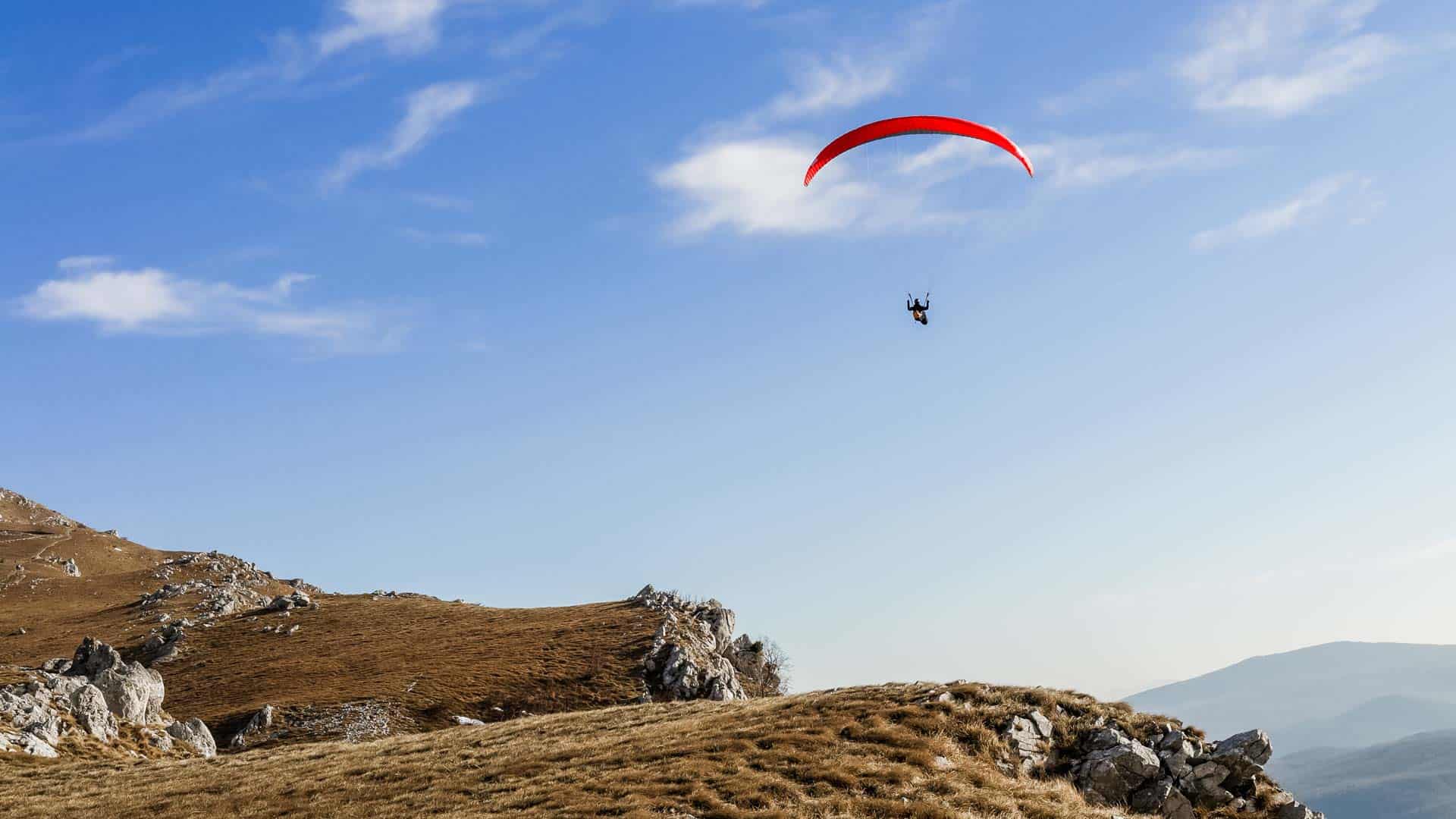 Paragliding and hang-gliding – if you want to see the entire valley – quite literally – there is no other way to do it than hang gliding.
There are two main launch sites, Lijak (Height ASL: 591 m, Difficulty: beginner) and Kovk (Height ASL: 860 m, Difficulty: medium). If you've never paraglided before or would prefer to let an expert guide you down, tandem options are available.
On two wheels!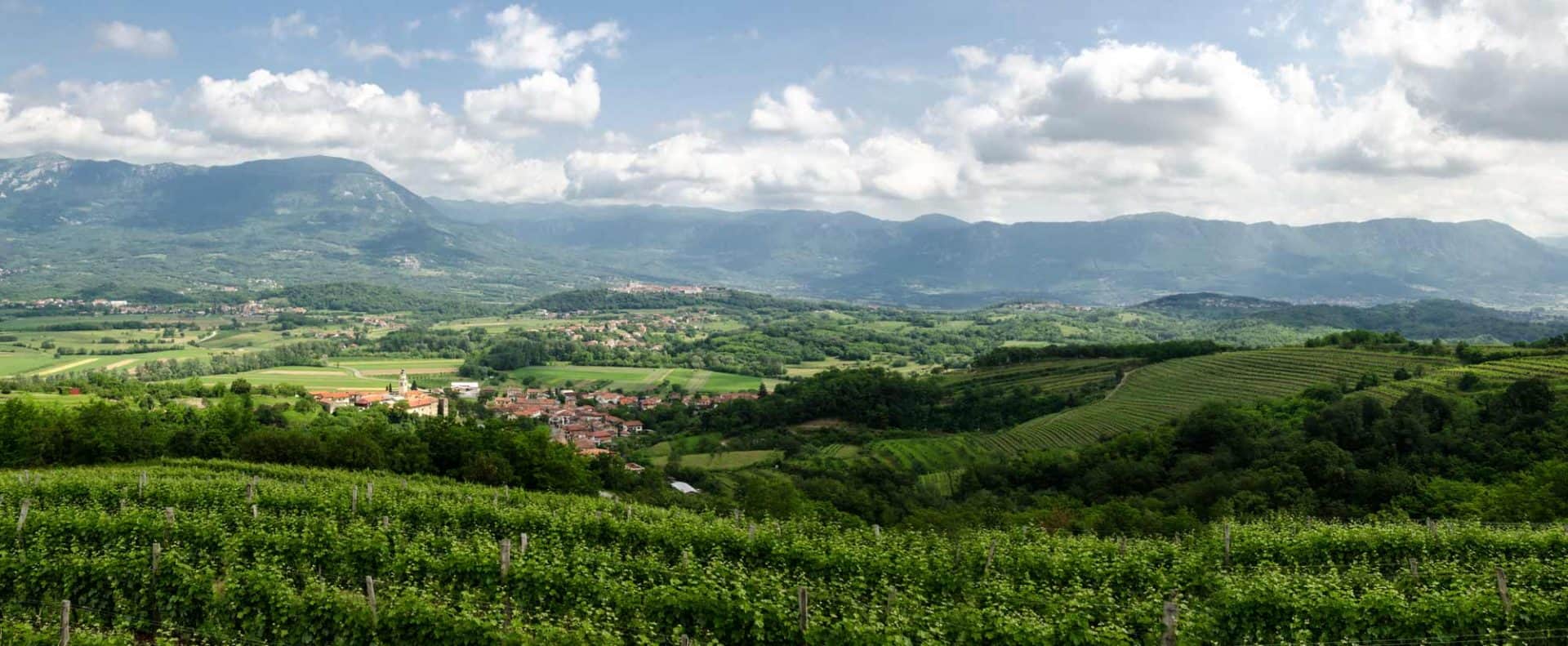 Biking can become tiresome if traversing monotonous countrysides. In Vipava Valley, it's simply the best way to get around. An extraordinarily diverse set of small country roads, bike paths and well-trodden trails will show you the valley better than any car or hiking trail. But it's unquestionably hilly so an e-bike is a must. Opting for an e-bikes also means that you don't have to be super fit or an avid biker to make the ride.
Into local food and wine? Enjoy it more after you've traversed the maze of vineyard roads, peach and cherry routes, and colorful fields where the bounty grows. We love wineries but to get a full flavor of region, we visit local shops that present a full bouquet of region – wines, gins, beers, schnapps, cheese, spreads, you name it. Try the Secret Vineyard tour. Full list of self-guided or professionally guided tours can be found here.
Images by Matea Mirošević
From the vine
Block out a full evening for the Wine Master Class at Tilia Estate. Tilia owner Matjaž Lemut is a charismatic genius and a modern day legend, frequently on the road teaching and tending to not only his vines but a plethora of other top vines in the region. If they say the master class will include 8 wines, expect more like 12 or who knows… I lost count at 16 on our tour. A delicious, family style meal was also included and of course a round (or three) of their local grape schnapps. It'll hit you as hard as its name may suggest: Bitch and Stuff You Need.
Images by Jaka Babnik
Other wineries we looooove:
Burja
Žorž
Guerila
OR be promiscuous and taste them all at the Vipavski Kriz wine bar called Darovi Vipavske. Mirjana the owner is a power house of local knowledge (all things edible and drinkable). Phone: +386 (0)31 393 753
Not into wine? That's fine. Vipava Valley also has some craft gin and breweries to write home about.
Beer:
Pelicon from Ajdovščina
Castra from Batuje
Reservoir Dogs from Kromberk
Gin:
Monologue
Bratinov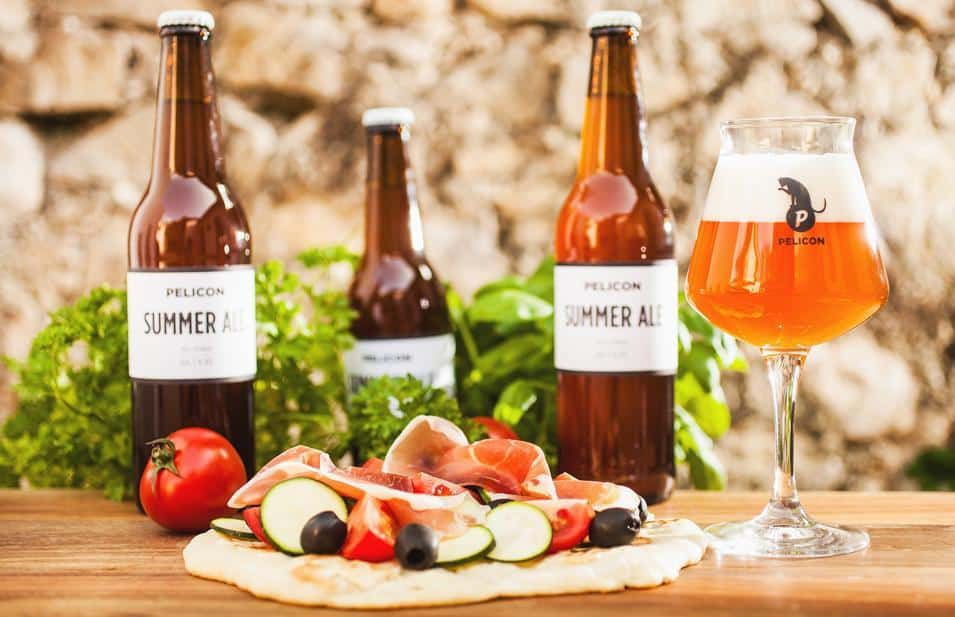 These boots were meant for walking!
For the best views and name-dropping prowess, hike Nanos and/or ride the plateau. It's a full day hike or a half day e-bike ride. Once you summit, the plateau is about 6 kilometres (3.7 mi) wide and 12 km (7.5 mi) long. (Interesting tidbit, the Nanos locals, all ~36 of them got their houses connected to the electrical grid in 2006!)
Hike Čaven, a neighboring mountain along the same ridge. There a number of trails heads to start the climb. Our favorite begins in Kamnje but they all have their own personality and you'll be able to drink excellent water straight from the mountain source. Reach the top and you can see the Adriatic Sea. There's also a little mountain hut/restaurant near the summit. Bring cash and fill up on hearty soups.
Hike up the Hubelj river to the Natural Window of Otlica or e-bike to the Natural Window of Otlica
Stroll the River – interested in movement but not a full-blown hiking commitment? The peaceful and lush Vipava River has a pleasant, nearly flat walkway next to it. (Bonus: Vipava river is the only river with deltoid spring in Europe!).
With all of this activity, don't forget to eat… or forget all activity and eat the whole time!
This area of Slovenia has some of the finest restaurants in the country. They can be pricey for locals but are a steal compared to Western Europe or North America.
Zemeno Castle GOSTILNA PRI LOJZETU (outside the town of Vipava)
Majerija SLAP – village near Vipava
Theodosius VRHPOLJE – village near Vipava

Or go local-local and take part in "Osmica" which is a open-house usually overflowing with local wine and home-made goods. The word Osmica is derived from the word eight (osem) and wine growers are allowed to sell their surplus of their last year's wine eight days per year without paying tax. Help them empty their wine barrels for upcoming year. Often this includes live music during the weekends!