This unforgettable Cycling holidays in Slovenia were marked by an enchanting series of unique landscapes, well-maintained roads, and, yes, countless moments of adventure that kept our wheels rolling forward.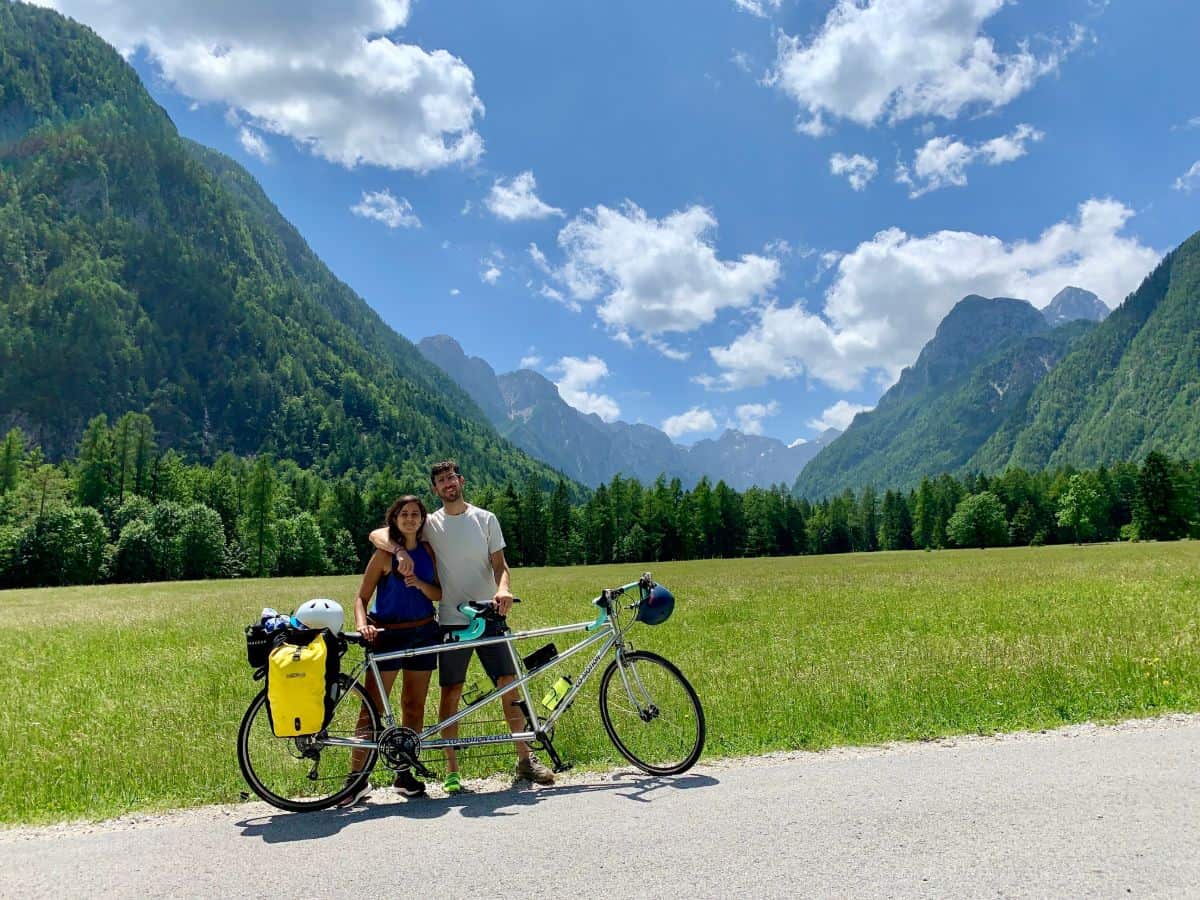 The background of Slovenian Cycling Holidays

With a tandem bike, two weeks vacation from work, and a round-trip ticket to Venice, Italy, we were in search of the right cycling touring itinerary. We had a semi-quixotic desire to create a unique trip, and we spent months researching and consulting with friends. But sometimes no matter how much research you put into a trip, it still feels like a mysterious black box.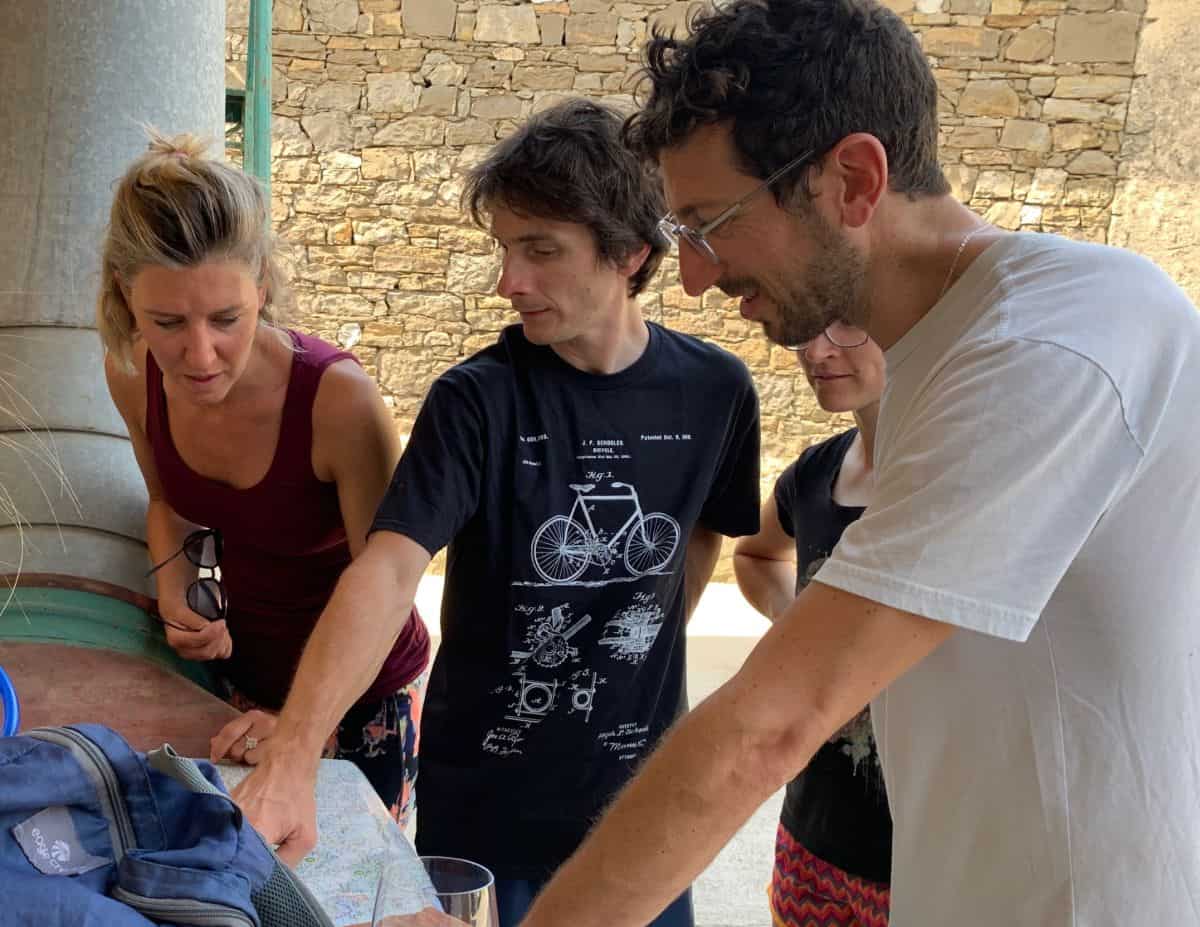 Then we met Alex. Known in Slovenia as a cycling coach and owner of RockVelo, a cycling tour company, Alex came to our rescue well before we even knew we needed rescuing. We cycled alone but Alex created an indispensable guide. He developed a detailed itinerary – paired exactly to our cycling ability, providing access to overlooked mountain-nestled towns and cycling-friendly countryside roads.

A custom made self-guided cycling itinerary
Alex created for us a guide that surpassed anything we could have developed on our own. During the multiple moments of the trip when we wanted to veer off course and try a different road – by following Google Maps, or trying to read terrain ourselves – we came to realize Alex was always right. With Alex's recommendations we had better scenery, gentle inclines, and safer roads. With our own decision-making we had boring thoroughfares, at times impossible-to-climb-roads, and dangerous highways.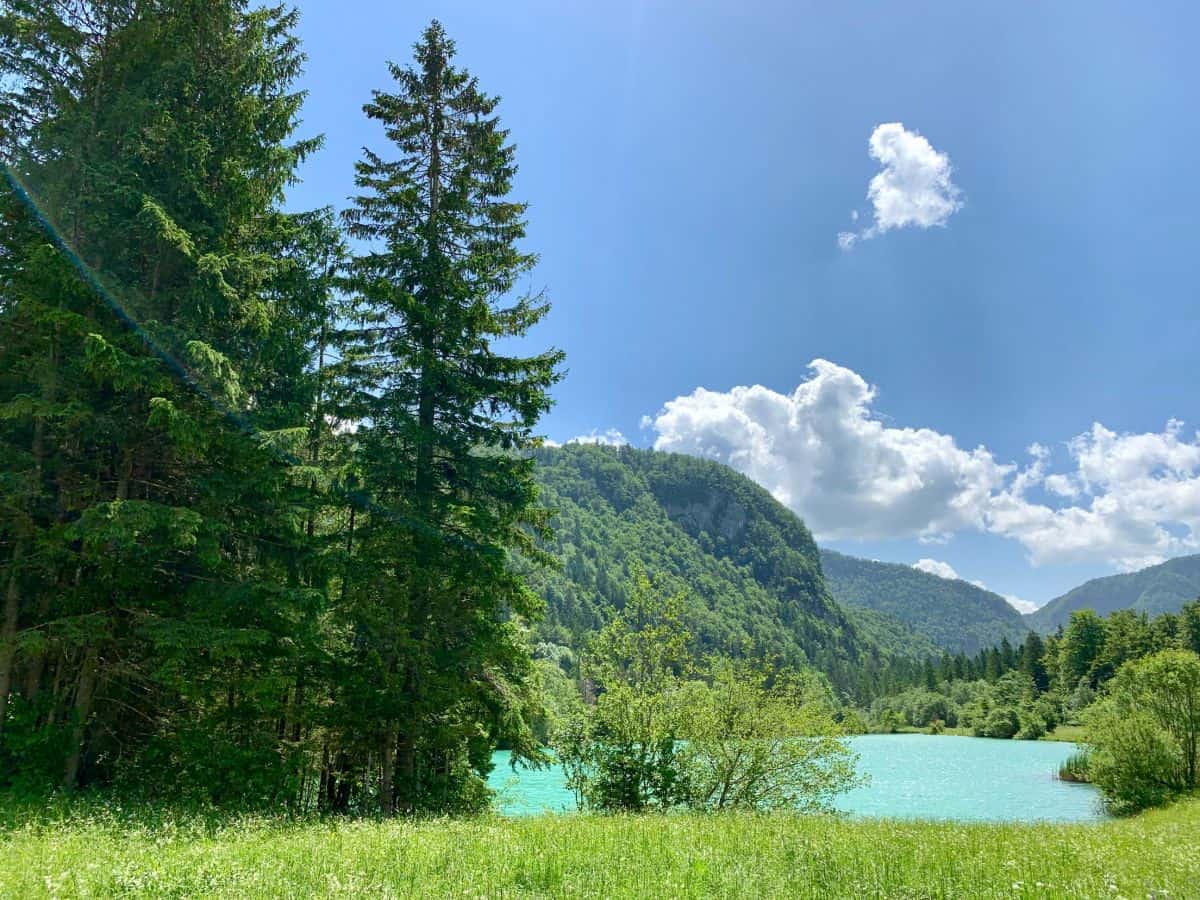 "Trust Alex!" became the standard refrain toward the second half of the trip: he always seemed to be right. Through Alex we came to explore a whole new world situated on the Italian-Slovenian border. And unquestionably because of Alex and RockVelo, we had the trip of a lifetime. 

Cycling holidays in Slovenia day by day
Day 1: Vipava valley to Tolmin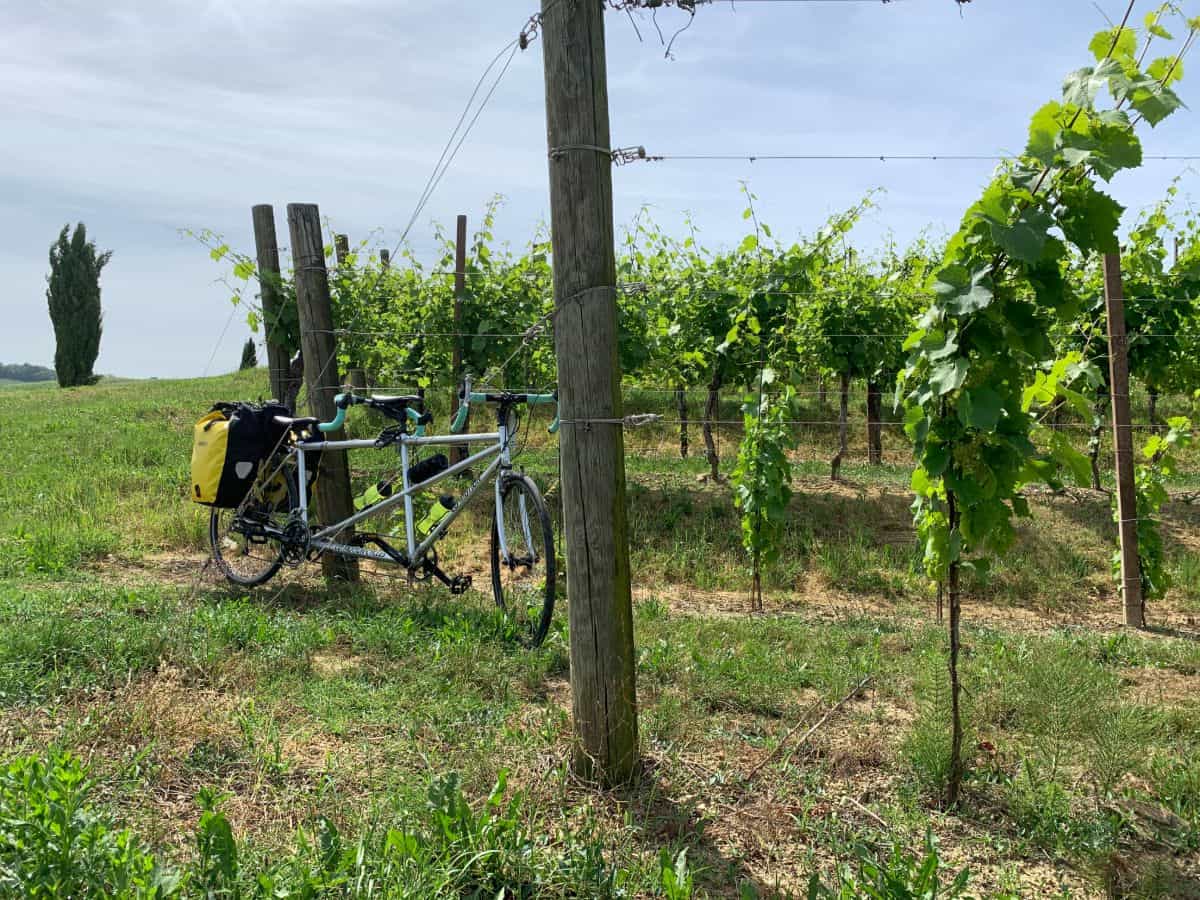 We were immediately impressed by Slovenia's wine region Vipava Valley. It was early June and the vineyards as well as the rest of the valley blushed with green color. The valley is made of multiple small villages and we met Alex after assembling our tandem bike. We reviewed the route, toasted with a citrus infused water, and were rolling through wine country the following hour. 

Heading towards Nova Gorica we stopped to pick mulberries. And then we hit the Soca River valley: stunning aqua blue water, surrounded by dense green forest. We couldn't take our eyes off it, and luckily we did not have to as we followed it on a bikeway while passing through small and charming villages, all the way to Tolmin where we stayed for the night.

Day 2: Tolmin to Bled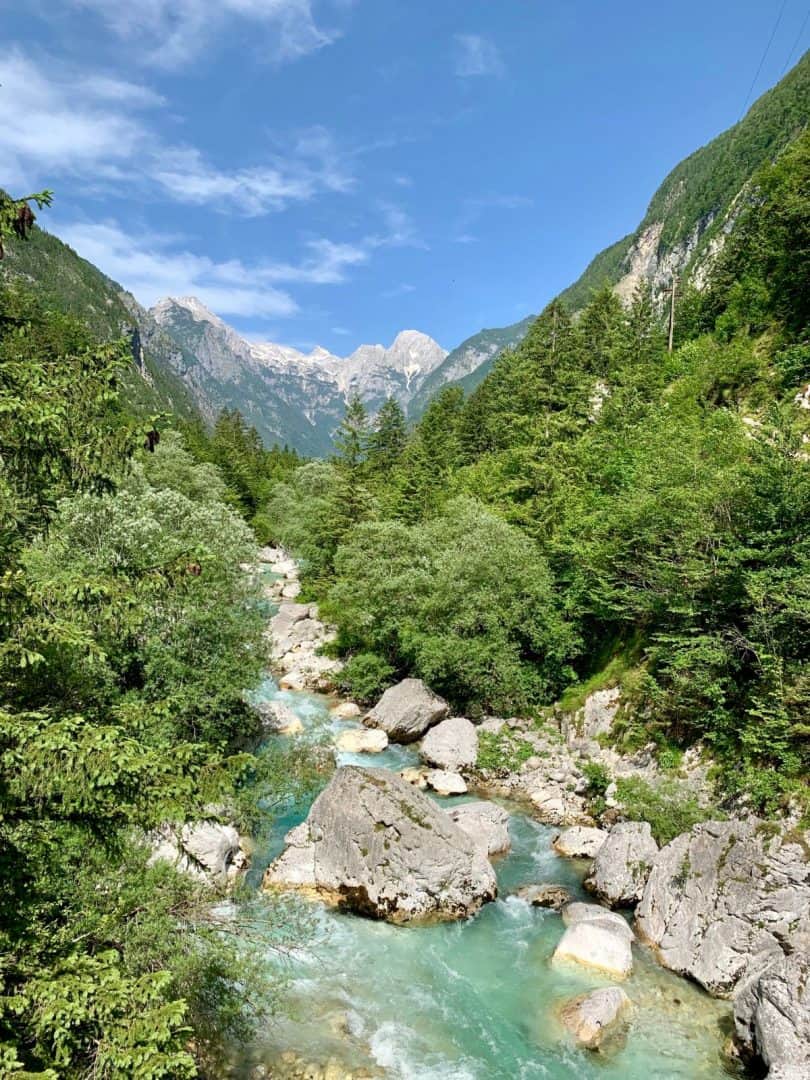 This day was distinguished for its impressive array of lush green forests, mountainside villages, and a fun train ride. We left the Soca River and started climbing through mountains, going through river valleys, and finally heading towards the legendary Lake Bled. As if Alex hadn't done enough to plan for the trip, he suggested we avoid the brutal climb over the mountain range that nestles Lake Bled, and instead take a train through it: cycling it on a regular bike would have been hard enough, on a tandem it felt too daunting, and we were beyond appreciative of his diligent research of train schedules and bike accessibility. We arrived to Lake Bled and were immediately captivated by its famous cliff-side castle and, of course, the beautiful island chapel. We celebrated with delicious fresh caught fish and went to bed early. 

Day 3: Bled to Kranjska gora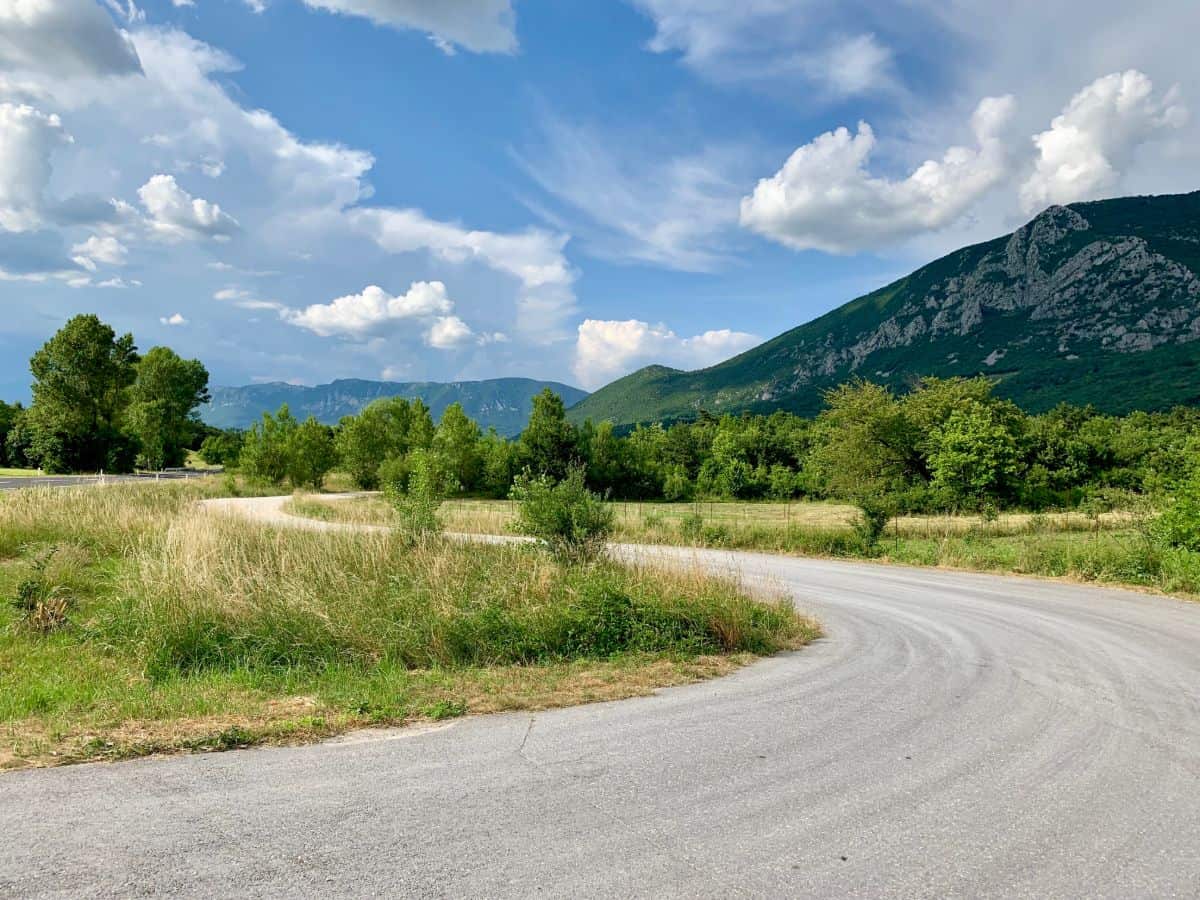 This was one of those days that any cyclist dreams about. Exploring Alpine beauty alongside some of the most picturesque roads one could ask for, with hardly any traffic, in the shadow of the stunning and towering Alps, and alongside a refreshing forested river. It was an easier day of riding, but one filled with gasps of excitement for all the beauty we found ourselves in. We stopped for lunch midway at a rural roadside tavern for some delicious regional food, and also were impressed by the rich and important history demarcating battle sites of WWI. If there were a perfect day of stunning scenic beauty combined with rich cultural history, this might be the one. 

Day 4: Kranjska gora to Kobarid over the Vršič pass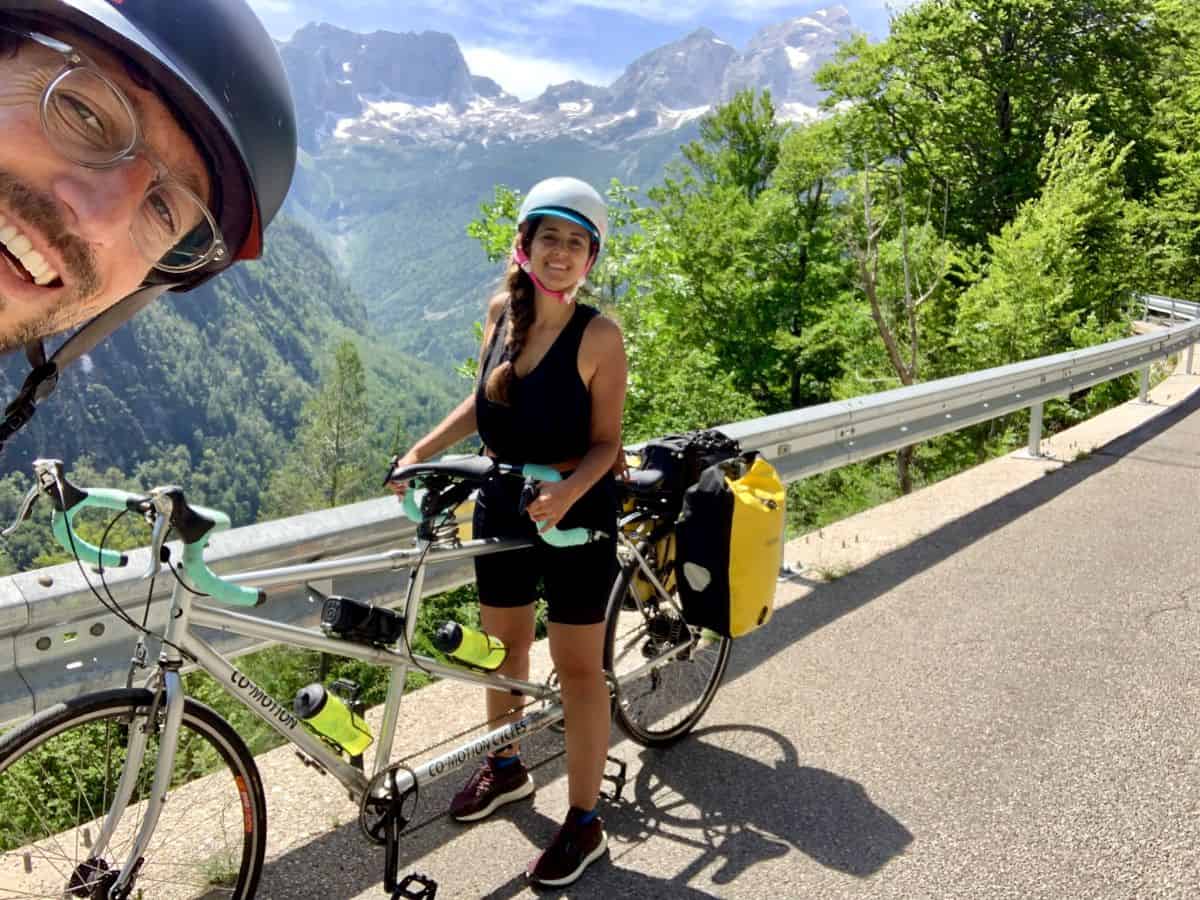 We faced a dilemma. Whether to attempt to climb the Vršič pass over the Alps – with something like 30+ daunting switchbacks demarcating Russian slave labor exerted during WWI – or to simply take a bus to the top. Because we were on a tandem bicycle, we decided to go for the bus. The pass would have been an amazing feat to experience, and while this trip could have been about notches to put on the proverbial cycling belt, this wasn't the time. One day, we'll return for it… Catching a bus was easy enough. And once we got to the top we went on a hike, continued to gawk at the rocky and rugged mountain range, and had a lunch. We made a move around mid-day and felt the rush of descent down the mountain. Being so situated in the Alps and following along the Soca River again was a moment marked by glee. We blasted music as we made our way through the lush landscape, going through one small town after the next, and finally arriving to Kobarid. This town had to be one of our favorites: we stayed at a small family-run guesthouse, on top of a pizzeria that offered some of the best food of the trip, and also invited us to explore a charming and tranquil town. It was also exciting to be included in Hemingway's A Farewell to Arms. Further helping appreciate the gravity of the war was a really stunning museum that we visited.  

Day 5: Kobarid to Goriška Brda wine region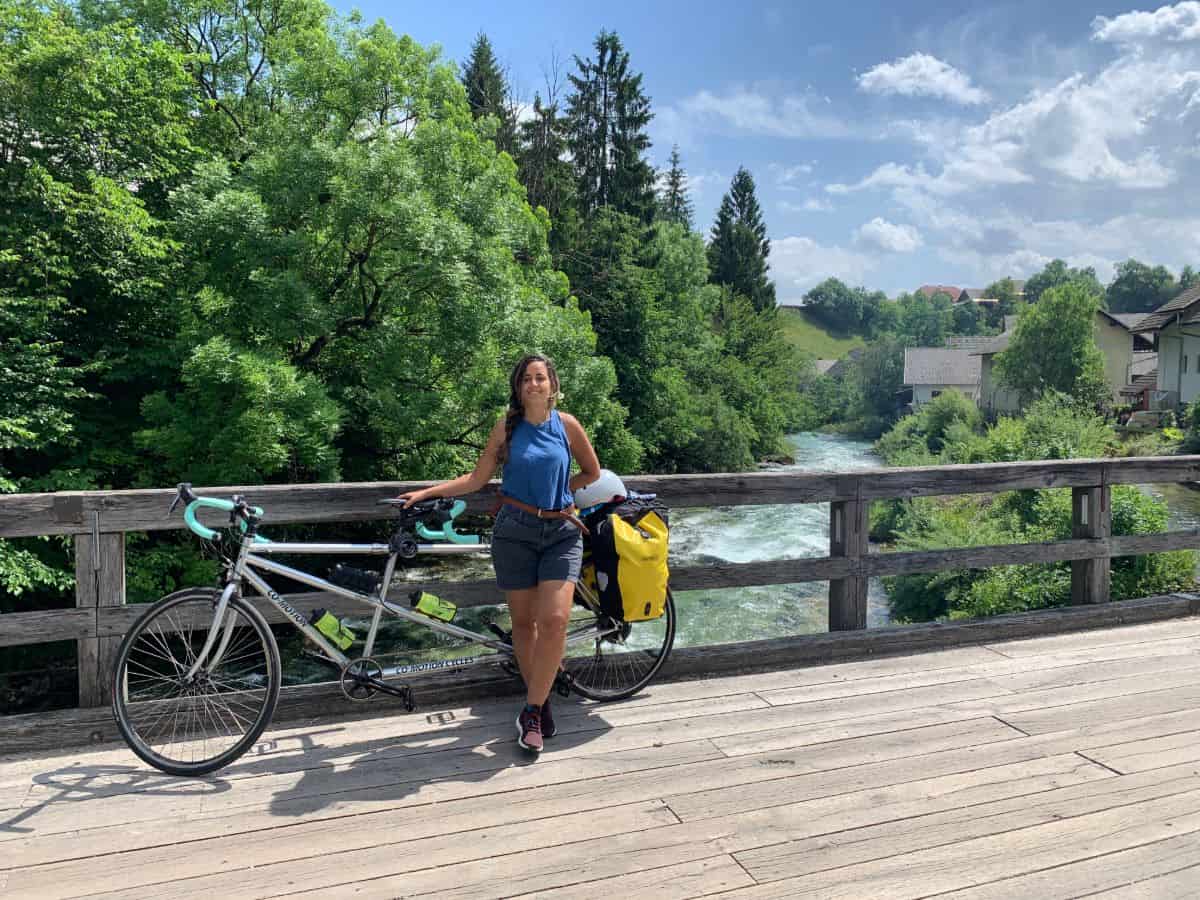 Maybe it was just in our minds, but romance was in the air. We crossed the Italian border and turned up the cheesy cooking music. Going through Italian villages was exciting. As was the roadside homemade pasta at a café that we passed by. But the real highlight of the day wasn't one particular site or shop, but the large majority of time spent cycling through vineyard after vineyard. And it was also refreshingly delicious. We cycled up numerous side roads and explored different vineyards, all happy to see us, and each hospitably offering wine tastings. It was hot, and we had to be careful how much we drank, but what a day! We ended the afternoon back in Slovenia – still in wine country of Goriška Brda – and toasted to the varied adventure we were rolling through. 

Day 6: Goriška Brda to Adriatic coast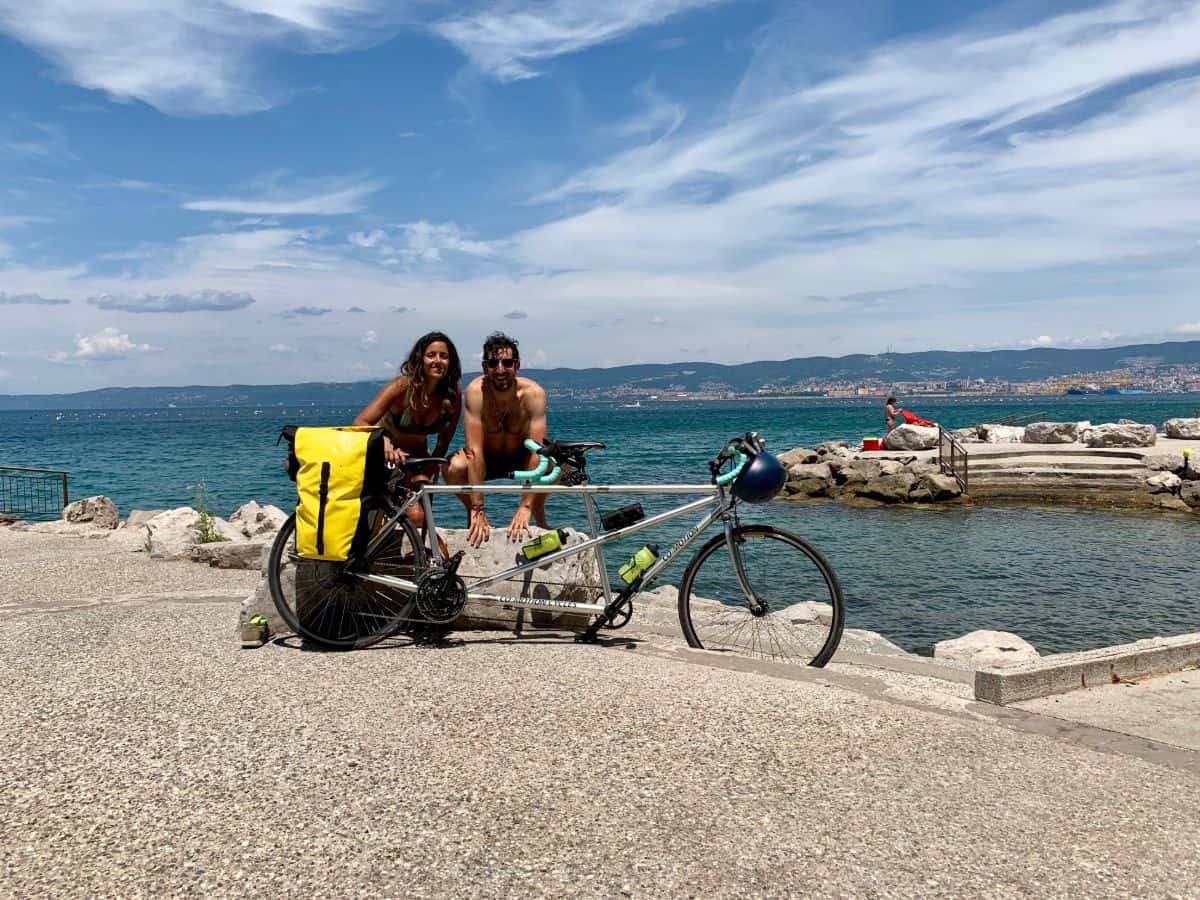 A little difficult to get rolling on this morning, we crossed back into Italy's Friuli region, and again we were cycling through gorgeous rolling vineyard hills. We never got tired of the site (and taste). But the day became more interesting as we began to pass through some very old and charming Roman villages with stunning architecture. Perhaps most impressive was the church mosaic dating back to the 3rd century, mixing ancient gnostic visions with early church imagery. And while the wheels kept rolling… we kept on pedaling and playing music and, soon enough, smell became site: and we were at the Adriatic Coast crossing into the island of Grado. After cycling through one beautiful provincial setting after the next, we felt like we had descended into Miami, and enjoyed much-needed time remembering how to walk and having fun exploring the city. 

Day 7: Grado to Piran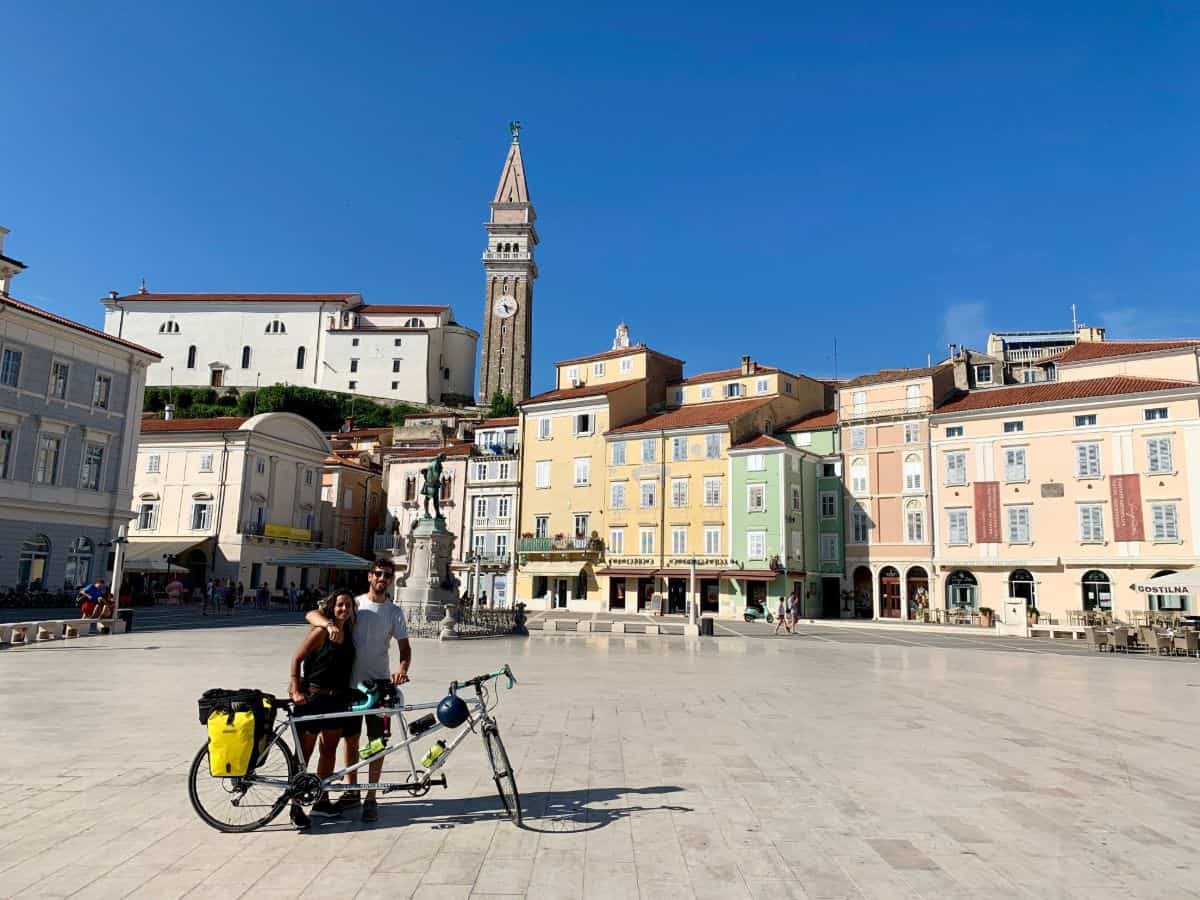 Instead of battling highway traffic, Alex suggested we hop on a bus and begin the day in Trieste. He was absolutely right. We woke up groggy after an hour-or-so ride and were overwhelmed by the big-city shuffle. Here, we encountered real traffic and big buildings. It was fun to explore city life with our rural cycling mindset. And then we left and were back on the road. This time we cycled alongside the Adriatic Coast, again blasting the music, and pulling off the road to jump in the inviting blue ocean. We must have jumped in at least 3 times. We kept going alongside the coast, back into Slovenia, and again returned to cycling through rolling hills and green wine country. Finally, we made it to the port city of Piran, always on our minds as the ultimate destination of the trip – and its Romanesque charm did not disappoint. We arrived feeling good and accomplished, and enjoyed walking through the labyrinth byways, celebrating with wine and fresh seafood dinner, and taking-in that coastal air we knew the following day we would be leaving. 

Day 8: Postojna to Vipava valley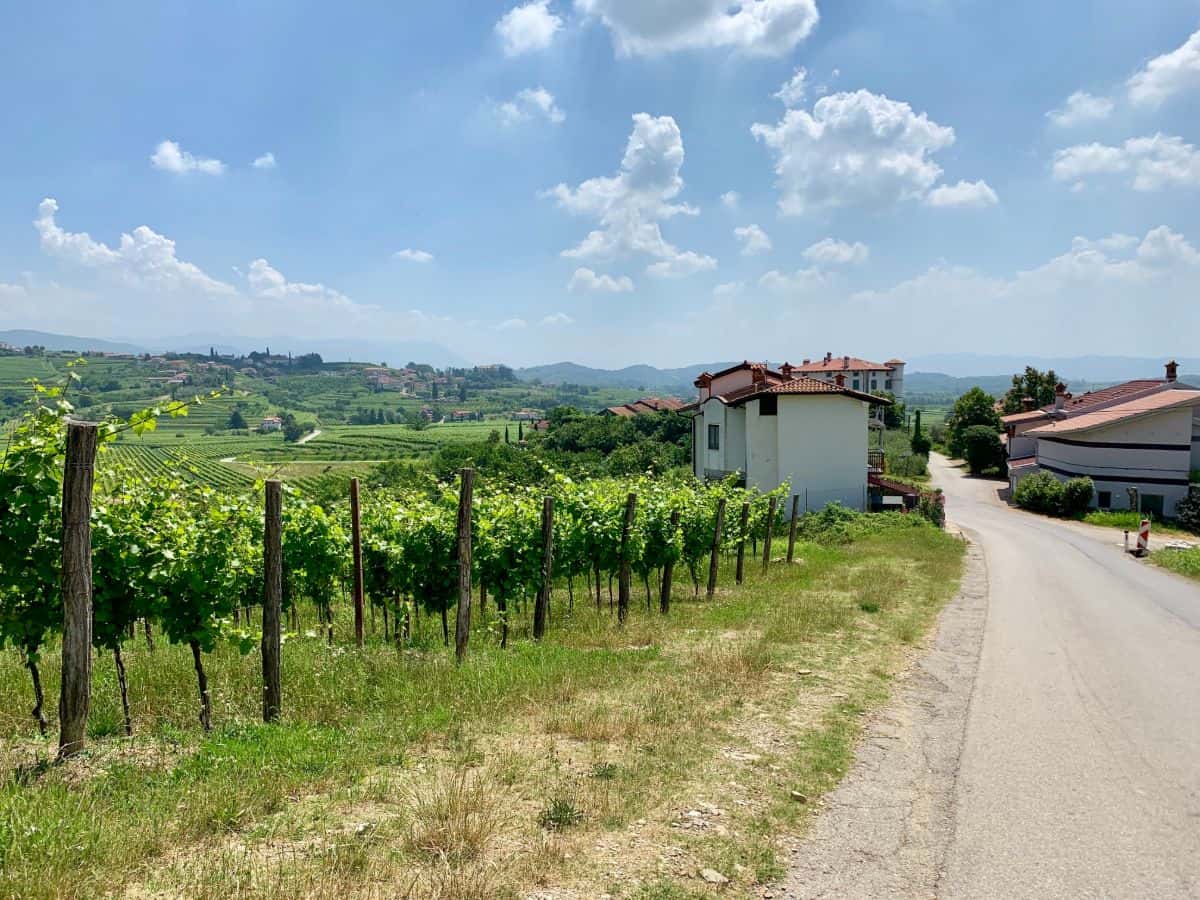 We had an itinerary to keep us pedaling forward, but we had other places we'd wanted to visit that would be easier off bike. That was one of the greatest things about this trip – is how accommodating transportation was and how easy it is to leverage public transportation. We decided to hop on a bus to Postojna where we got to explore the famous caves – they definitely live up to their hype!! And then we were back on our bike, one last time, cycling through the gorgeous countryside that inspired us from the very beginning, heading to Vipava Valley. We celebrated with regional wine, of course, and saw Alex the following day. He was beyond a hero by creating the most detailed, accommodating, and fun itinerary for a cycling trip that neither of us would forget.